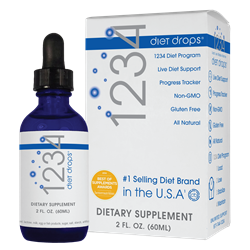 We always strive to provide the best quality products and exceptional customer service at the most affordable price.
Murray, Utah (PRWEB) December 12, 2014
Creative Bioscience is pleased to announce that their 1234 Diet Drops have won Better Nutrition Magazine's 2014 Best of Supplements Award in the weight loss category.
"We always strive to provide the best quality products and exceptional customer service at the most affordable price," said Ike Blackmon, Executive Director at Creative Bioscience.
More About Diet Drops
1234 Diet Drops is designed to break down fat and help people slim down without the fatigue and cravings that come along with other diets. It contains select amino acids and herbal extracts that are clinically supported to promote fat metabolism and provide essential nutrition.
The 1234 Diet System consists of everyday foods in the proper amounts, along with the proper diet supplement to provide customers with the means to succeed with their weight loss goals. Creative Bioscience is committed to providing only the highest quality of service with their unlimited, 24/7 diet support from trained weight loss experts. Whether it's a question about a product or diet, or if it's assistance with diet plateaus or other issues, the support staff at Creative Bioscience is standing by, ready to assist customers. Creative Bioscience sticks with the customer after the sale. They encourage people to give them a call with their diet questions, no matter what diet or product they may be on.
"Here at Creative Bioscience, we know that there is no 'magic bullet' that creates instant weight loss results without any work," says Ike, "For us, it's not just about the diet drops; it's not just about our diet protocol. It's about sticking with our customers who make the decision to make a change. It's about standing with our customers as they strive toward their weight loss goals and then helping them maintain their goals."
Award-Winning Results
Driven by customer feedback,Creative Bioscience's commitment is to deliver the latest designer weight loss products without breaking your wallet. When dieters choose to lose with the premium supplements from Creative Bioscience, they get free, unlimited, 24/7 support from diet experts. For more information about the 1234 Diet Drops, please visit 1234dietdrops.com.
With the diet season quickly approaching, Creative Bioscience wants to let the world know what sets them apart from other diet drop companies and products in the industry: high quality products with exceptional, unparalleled customer service. The company offers a wide range of products and services designed to provide sustainable weight loss results. For more information on Creative Bioscience and their full product line, please visit creativebioscience.com.
Creative Bioscience and 1234 Diet Drops are registered trademarks of Creative Bioscience in the United States and/or other countries.
For more information on 1234 Diet Drops®:
http://www.creativebioscience.com
1234dietdrops.com