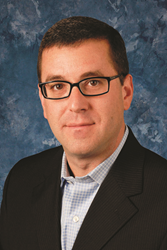 "We offer a safe, reliable and professional experience for our clients so they don't have to worry about parking, traffic, a DUI, or having to limit their fun," said Michael E. Donner, EVP, CMO.
Cleveland, OH (PRWEB) December 11, 2014
BeMyDD (Be My Designated Driver), the nation's largest designated driver service, today announced the appointment of Michael E. Donner to executive vice president, chief marketing officer.
In this newly created role, Donner will oversee all strategic, operational and financial aspects of the company's integrated marketing and demand generation initiatives. This includes the company's website, iOS and Android apps, advertising, digital marketing, communications, lead generation, sponsorships, public relations, and other initiatives.
BeMyDD offers another option to ridesharing services such as Uber and Lyft with a range of affordable services where professional, experienced chauffeurs operate the customer's own vehicle, priced at pre-determined rates free of surge pricing or other surprise fees. All drivers are background screened, interviewed and fully insured up to US$2 million per trip by ByMyDD.
"Michael's leadership experience and marketing expertise will be invaluable in this period of rapid growth as BeMyDD enters new markets and launches new services," said Arthur Simanovsky, president and CEO of BeMyDD. "I am particularly excited about Michael's impressive track record of building brands in hyper-competitive markets with innovative demand generation programs and initiatives."
"Because our drivers use the client's own vehicle, BeMyDD offers a new, different type of service in the ride-sharing transportation market," said Michael E. Donner, EVP and CMO of BeMyDD. "We offer a safe, reliable and professional experience for our clients so they don't have to worry about parking, traffic, a DUI, or having to limit their fun."
Donner has more than 20 years of marketing, inside sales and demand generation experience. Prior to joining BeMyDD, he held the CMO role at Conversica, a sales conversion management software company and Prolexic, a cyber-security DDoS protection and mitigation company (now part of Akamai). Prior to this, Donner ran Competitive Marketing Advantage, a full-service consulting, strategy and marketing services firm, and served as the interim head of marketing for Tech Data, Thales e-Security and IntelliDOT Corporation. He has also held global executive roles at Capgemini, Eclipsys Corporation and Telelogic AB. Donner has a Bachelor of Science degree in marketing, management and international business from Babson College in Wellesley, Mass.
Those out on the town this holiday season can make use of two BeMyDD services. With the Personal Driver Service, a professional driver arrives at client's home, chauffeurs the client anywhere they want go using the client's own car, making multiple stops if necessary. The driver waits in the car and takes client back home when they are ready. Rates for the Personal Driver Service range from US$14-US$19.50 per hour depending on geography. With the Pick-Up Service, a client has driven to a location, but does not want to drive home and contacts BeMyDD. The company dispatches two professional drivers to take the client and their car home. Rates for the Pick-Up Service are US$25 for car pick-up + mileage.
About BeMyDD
BeMyDD (Be My Designated Driver) is the nation's largest designated driver service currently operating in 76 markets in 31 states. This convenient, safe, reliable and affordable alternative transportation service provides a chauffeur at a discounted rate by driving the customer's automobile. Professional, experienced drivers are fully background screened, interviewed and insured by ByMyDD and wear formal business attire. BeMyDD was founded in 2010 and is headquartered in Cleveland, OH. The company has national partnerships with leading liquor and wine companies such as CÎROC and Brown-Forman to promote social responsibility. To schedule a professional driver, go to BeMyDD.com, call +1 (877) U BeMyDD (823 6933), or download the mobile app. To learn more, visit http://www.BeMyDD.com and follow us on Facebook; LinkedIn; Google+; YouTube and Twitter.