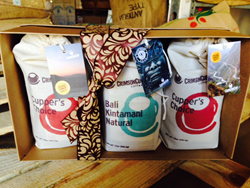 With our two global tour gift boxes, you can send your coffee lover on a virtual coffee-tasting trip with three exceptional coffees from widely different coffee-growing regions. - Greg Ubert, Crimson Cup Coffee & Tea
Columbus, Ohio (PRWEB) December 11, 2014
With flat-rate shipping, Crimson Cup Coffee & Tea is making it easier than ever to spread caffeinated cheer over the holidays. All coffee, tea and brewing equipment orders of at least $45 ship for a flat rate of just $7.50 anywhere in the continental United States.
"Chances are, you begin your day with a cup of coffee or tea – and so do your family and friends," said Crimson Cup Founder and President Greg Ubert. "Flat-rate shipping makes it easier for you to share the gift of handcrafted coffee and tea."
The shipping offer applies to everything on the Crimson Cup website, including organic, direct trade and micro-lot coffees, loose-leaf tea, brewing equipment and gift boxes. "Whether your order totals $45 or $450, it will ship to any single address for $7.50," Ubert said.
He noted that Crimson Cup's gift boxes have been a big hit this season. "With our two global tour gift boxes, you can send your coffee lover on a virtual coffee-tasting trip with three exceptional coffees from widely different coffee-growing regions."
The $45 Global Coffee Tour Gift Box includes 12-oz bags of handcrafted coffees from three different continents. The $75 v60 Home Brewing Box offers everything needed to start crafting hand-pour coffee at home, with the same trio of coffees plus a Hario v60 ceramic drip brewer and filters. Each box comes with a reference card highlighting details about the coffees, and the Home Brewing Box also includes a link to a tutorial on how to brew coffee.
The three featured coffees include Organic Bali Kintamani Natural from Indonesia, La Minita El Conquistador from Costa Rica and Honey Processed Amazonas from Peru. Each was processed after harvest using a different method – natural, washed and honey-processed – enhancing the diverse taste profiles. All Crimson Cup coffees begin with top-quality beans that are hand-roasted in small batches to deliver a consistently delicious cup.
Organic Bali Kintamani Natural earned an outstanding 90 score from Kenneth Davids and the Coffee Review, which described it as "… an impressively lush, voluptuous coffee." This organic Indonesian coffee is naturally dry processed, meaning that the coffee beans are dried inside the coffee cherries instead of being removed from the fruit.
La Minita El Conquistador grows in the Dota sub-region of Tarrazu, Costa Rica. This shade-grown coffee ferments slowly during the washing process, which removes the coffee cherry and mucilage from the coffee bean before drying. This produces a fruity, floral, and complex cup, with crisp acidity and lively winey flavor not typical in a Tarrazu coffee.
Grown on a small farm in Peru's Andes Mountains, Honey Processed Amazonas displays notes of stone fruit, caramel and agave. After harvest, the coffee beans are separated from the outer cherry fruit, but unlike in fully washed coffee such as El Conquistador, the beans are then dried with the mucilage intact. This semi-washed or honey processing can intensify the sweetness and mouthfeel of the coffee and round out its acidity.
Columbus, Ohio shoppers also can pick up local gifts at Crimson Cup Coffee House, 4541 North High Street in Clintonville.
About Crimson Cup Coffee & Tea
Since 1991, Crimson Cup Coffee & Tea has hand-roasted specialty coffee in Columbus, Ohio and taught independent business owners how to be successful through its coffee shop franchise alternative program. Sustainably sourced Crimson Cup coffee is available through a network of more than 350 independent coffee houses, grocers, college and universities, restaurants and food service operations across 28 states, as well as the company's own Crimson Cup Coffee House in the Columbus suburb of Clintonville. For more information, visit http://www.crimsoncup.com.