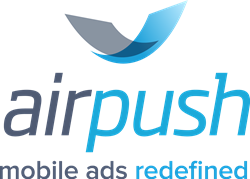 Los Angeles, CA (PRWEB) December 11, 2014
Airpush, the leading mobile advertising platform ranked #2 on Forbes' 2014 list of America's Most Promising Companies, has been awarded Most Innovative Product of the Year (Silver) at the 2014 Best in Biz Awards. This continues Airpush's impressive collection of awards in 2014, which in addition to the Most Innovative Product of the Year and Forbes' awards, includes being named Top Innovator in Advertising Data by DataWeek and Company of the Year in the international edition of Best in Biz.
This most recent award was granted to Airpush after close evaluation of the comprehensive mobile advertising solutions the company offers brands, agencies and performance advertisers of all types. Airpush's technology was designed to give advertisers access to advanced, first-party data sets that enable the most precise campaign targeting and optimization available in the industry. Airpush also offers advertisers a suite of cutting-edge targeting capabilities to reach consumers, enabling them to create rich mobile experiences that match or exceed capabilities of other mediums. The combination of these two strategies has proven extremely successful for advertisers worldwide and powered consistent increases in overall campaign ROI.
"Best in Biz's repeated recognition of the platform we have built is a great honor as well as a validation of our unique strategy," said Asher Delug, CEO, Airpush. "As we continue to release new and innovative advertising capabilities, we are happy to see that their impacts are felt far outside of the mobile industry. Best in Biz is one of the most diverse and competitive business awards operating today, and these honors are a great barometer of how our contribution is being received by businesses of all shapes and sizes."
Best in Biz Awards' fourth annual North American program was its most competitive yet. As in previous years, the fourth annual program in North America featured a large and distinguished judging panel comprised of members of the media who reviewed and scored hundreds of award nominations. More than 550 award nominations were received this year in a variety of company, executive, team, and product focused categories. Nominations were fielded from public and private companies of all sizes, from virtually every major industry and region in the U.S. and Canada.
For a full list of gold, silver and bronze winners in Best in Biz Awards 2014, visit: http://www.bestinbizawards.com/2014-winners/.
About Best in Biz Awards
Best in Biz Awards recognizes top companies, teams, executives and products for their business success as judged by established members of the press and industry analysts. Best in Biz Awards honors are conferred in two separate programs annually: North America, and International. Entries will begin to be accepted in the Best in Biz Awards 2015 International program in January 2015. Any organization worldwide may participate in the International program in any of the more than 60 company, department or team, executive and product categories. For more information about the entry process and categories in the International program, please visit: http://intl.bestinbizawards.com.
About Airpush
Ranked #2 in the 2014 Forbes list of "Most Promising Companies" and winner of the "Top Innovator in Advertising Data" award at the 2014 DataWeek Conference, Airpush is on a mission to redefine mobile advertising. More than 140,000 apps and the world's leading advertisers rely on Airpush to deliver the industry's highest performance, driven by exceptional ad formats and targeting technology. Founded in 2010 by mobile advertising veterans, the company has approximately 250 employees and offices in Los Angeles and Bangalore, along with sales regions in all major markets. For more information, visit http://www.airpush.com or follow us on Twitter @AirpushAds.