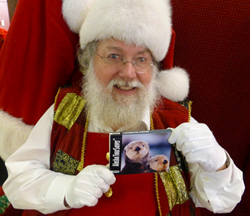 Smart travelers (who are nice, not naughty) are putting the Alaska TourSaver® at the top of their gift list!
North Pole, AK (PRWEB) December 11, 2014
Just in from the North Pole: Santa is making a list and checking it twice. And smart travelers (who are nice, not naughty) are putting the Alaska TourSaver® at the top of their gift list.
Father Christmas himself grabbed a copy to peruse. Here is a partial list of the great bargains Santa liked—especially since everything is 2-for-1. (Buy-one-get-one free)
There are more than 125 2-for-1 offers for everything, including these exclusive offers:
a. 2-for-1 Big Swig Tours. Take a ride around Anchorage to the BEST micro-breweries. Taste and see.
b. 2-for-1 Era Helicopters in Denali Park. Go heli-hiking with the help of a glorious A-Star 350 helicopter!
c. 2-for-1 Kennicott Glacier Lodge in Wrangell-St. Elias National Park. You don't get any better than this outpost in the midst of America's largest national park.

Plus 2-for-1 flight seeing with Wrangell Mountain Air 
Plus 2-for-1 glacier hike with Wild Alpine 
d. 2-for-1 Columbia Glacier Cruise with Stan Stephens Cruises in Valdez.
e. 2-for-1 Hotel accommodations in Valdez, Seward, Anchorage, Juneau, Ketchikan, Skagway, Denali Park…and more.
f. 2-for-1 Whale watching in Juneau and Hoonah.
g. 2-for-1 Jetboat tour up the Stikine River in Wrangell with Alaska Waters.
h. 2-for-1 Flight seeing in Misty Fjords National Monument with Taquan Air in Ketchikan.
i. 2-for-1 ZIPLINE adventures in Juneau and Ketchikan with Alaska Canopy Adventures.
j. 2-for-1 Seven-day/six-night adventure to Lake Clark National Park (including air fare, meals and guided trek) with Alaska Alpine Adventures.
…plus MORE. The Alaska TourSaver book costs $99.95 and features more than $20,000 in Alaska travel 2-for-1 savings—including: glacier and wildlife cruises, flight seeing, adventure tours, rafting, fishing, salmon bakes, gold panning and accommodations.
This year's Alaska TourSaver is available both in a printed edition and via an electronic app for iOS (iTunes Store for iPhones) and Android (Google Play Store) smartphones. For more details, visit the Alaska TourSaver website.