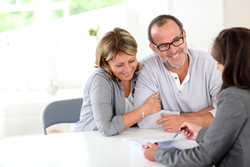 Next year could see an increase in the number of first-time home buyers in the market for a variety of reasons
Chicago, IL (PRWEB) December 10, 2014
In early December, mortgage rates dipped to their lowest levels since May 2013, according to information released by Freddie Mac on December 4th. The Federal Savings Bank, a Midwest based lender, knows this is great news for first-time home buyers who have been nervous about entering the market and current homeowners looking to refinance.
Not only are mortgage rates remaining at historical lows, but some anticipate that current rates will stick around through January, as MarketWatch reported in a release titled "Long-term mortgage rates hit lowest level since May 2013." This gives home buyers a bit more time to find the right house before making an offer.
"Whenever we have a drop in rates, that can only be good for housing demand," Freddie Mac's Chief Economist Frank Nothaft said, according to MarketWatch. "I do expect that it will continue to support a high level of affordability in most markets for those families with that have the financial wherewithal to buy a home."
Obstacle to ownership
The largest hurdle to buying a home is not mortgage rates anymore - it is the down payment. There are down-payment assistance programs available around the U.S. to help first-time home buyers purchase a house. However, a majority of people in the U.S. are unaware of these options.
According to a survey by community development nonprofit NeighborWorks, 70 percent of adults do not know about down-payment assistance programs in their communities. Many of these programs not only offer financial aid, but they also require home buyer education, which reduces the rate of delinquencies and foreclosures in the long run.
Growing millennial involvement
Next year could see an increase in the number of first-time home buyers in the market for a variety of reasons: low interest rates, down-payment assistance and an improving job market.
Realtor.com predicts millennials - particularly the older half of the generation - will be moving on from their rented digs to their own homes in 2015. A large percentage of first-time home buyers come from the millennial generation, meaning next year may see the rate of first-timers in the market return to 1980's levels.
"In 2015, increases in employment opportunities will empower younger buyers to return to the market and fuel the continued housing recovery," said Realtor.com Chief Economist Jonathon Smoke, according to the National Association of Realtors. "If access to credit improves, we could see substantially larger numbers of young buyers in the market."
Realtor.com is so optimistic about millennials joining the real estate hunt that it predicts members of this generation will account for two-thirds of household formations over the next five years, as the National Association of Realtors reported on December 5th
First-time home buyers should contact the Federal Savings Bank, a veteran owned bank, to learn more about low interest rates.