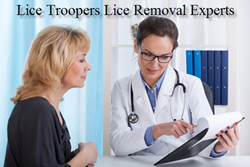 Head Lice Increasing Among Young Adults
Miami, FL (PRWEB) December 11, 2014
This holiday season, as the kids come home from college, they may be bringing more than you bargained for. Head lice, typically thought to be a condition affecting school-aged children, increasingly spreads among the big kids too according to a new study performed by Lice Troopers.
It isn't hard to see why—college students live in close quarters, and are often sleeping on friends' futons, sharing personal belongings with roommates such as hair brushes, towels and clothing, and taking selfie photographs with heads touching. Dormitory living is fertile breeding ground for the growth and spread of the head louse parasite.
If one student in a dormitory has lice, it is quite probable that other dorm residents have it as well. It is for this reason that the owner of a leading head lice removal company Lice Troopers recommends complete dorm screenings. Even one case of head lice that goes untreated can quickly launch a dorm-wide and even campus-wide epidemic. Early detection and treatment is the key to keeping the problem contained, and then eliminating it altogether.
Prevention in a dorm setting is no different than prevention among elementary or junior high kids. That means not sharing personal belongings like hair brushes, towels, hats, scarves or other accessories that come into contact with the hair. It also means not sharing pillows and bedding. If a student is spending the night in a friend's dorm room, bring a pillow. For students with long hair, wearing hair in a ponytail or bun can help prevent the spread of bugs and nits.
Lice Troopers treats children, college students and adults in the same manner—using the all-natural Lice Busters method that has always been proven to work. Developed by "Lice Lady" Dalya Harel, the Lice Troopers method is safe and guaranteed effective after just one treatment. No chemicals or pesticides are required. Lice Troopers also provides campus-wide screenings or house call visits if lice is discovered while kids are home over winter break.
Don't let a case of head lice get you down this holiday season. A professional Lice Clinic such as Lice Troopers can handle an entire family in an hour or two, letting you forget about the lice and get back to the festivities.
Lice Troopers is proud to provide all-natural head lice removal services in the South Florida area, including Miami Dade, Broward, and Palm Beach. They recently opened a location in Coral Gables so local residents of South Florida no longer need to travel to North Miami.
Lice Troopers, the all-natural lice removal service in Miami-Dade County, is available 24-hours a day, seven days a week and can be reached at 1.800.403.LICE. Or visit http://www.licetroopers.com/