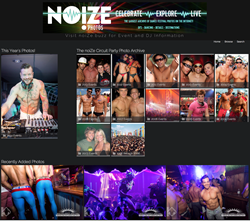 Over 50,000 gorgeous photos spanning two decades of events.
Los Angeles, CA and New York, NY (PRWEB) December 31, 2014
After a year of dramatic increases in visits, page views and advertising, noiZe will henceforth become noiZe.buzz. The new name reinforces noiZe's undisputed position as the world leader in providing consumers with the latest information on travel, cruises, music and DJs, events, and city guides directed at gay leisure-time consumers.
noiZe has amassed more than 50,000 photos from two decades of events around the world. To showcase this unparalleled archive, noiZe.photos offers a visually stunning presentation that includes sideshows and links to the most popular social media sites. Powered by Smugmug, noiZe.photos provides visitors with the ability to download their favorite photos in a high-res format, as well as create keepsakes and T-shirts. Enhanced interactivity enables visitors to mark "likes" and share photos across social media.
Both noiZe.buzz and noiZe.photos are supported across all desktop and mobile platforms, including the full range of Apple and Android products.
"noiZe is taking advantage of the advent of newly available domain suffixes to create an attractive and engaging photo site to provide its audience and advertisers with an easier way to leverage the tens of thousands of event photos into the present," explains Publisher Stephen Ceplenski. "noiZe.buzz continues to underscore the brand's evolution as the most trusted source for gay men — and anyone else — interested in leisure-time activities," Ceplenski adds, "a market notable for the expendable income to pursue such events anywhere in the world."
In the twelve months since Ceplenski, Co-Publisher Gary Steinberg and Editor-in-Chief Steve Weinstein moved all editorial product online, noiZe's digital footprint grew five-fold, with visitor traffic increasing by 400 percent. In twenty years of comprehensive coverage, noiZe has consolidated its position as the unquestioned category leader.
Advertisers have responded by renewing and, in most cases, increasing their utilization of the noiZe brand. Producers and organizations using noiZe to market their events include:

Rich Campbell, CEO of Atlantis Events, the world's largest gay cruise operator and travel planner;
Los Angeles-based Jeffrey Sanker, producer of the world-famous Palm Springs White Party;
AIDS service organization Care Resource, producer of the Miami White Party;
The National LGBTQ Task Force, producer of the Miami Winter Party Festival;
Robert Vezina, producer of Montreal's Black and Blue Festival;
Tom Whitman, whose ski weeks span resorts in California and Utah;
Blake Baker, producer of Dallas' the Purple Party;
Billy Mack and Tom Christ, producer of One Magical Weekend in Orlando;
Brett Henrichsen, whose Los Angeles-based Masterbeat produces parties in various cities, often in conjunction with WE Party, a Madrid-based producing organization;
Ric Sena, founder-producer of Alegria Events.
They are among the many advertisers who have come to realize that Facebook's cost-per-impression is no bargain. Most people consider a "Like Ad" less a welcome recommendation from a friend than an annoying intrusion. In the face of bots, click farms and other systemic problems, Facebook continues to raise CPMs, Forrester Research recently concluded. Facebook and Twitter posts reach barely 2% of their fans and followers, and an average of less than one-tenth of 1% interact with any given post.
In sharp contrast to Facebook's increasingly controversial escalation of its monetization, noiZe's top ranking across all major search engines makes it readily available and highly visible to casual browsers new to the scene, those isolated in rural areas and those outside the U.S. and Canada. Unlike Facebook, noiZe offers visitors a "one-stop-shop" resource that invites repeat visits to keep up with the latest happenings in a non-threatening or alienating environment. With over 41,000 followers on Facebook and 65,000 on Twitter, noiZe provides a positive social-media experience.
"With our dramatic success over the past year," Ceplenski enthuses, "a migration to a singularly attractive format that brilliantly highlights our unique, continuously growing photo archive, serves to emphasize how well noiZe delivers all the buzz consumers need to make informed decisions. Seeing the full archive gives visitors even more incentive to get out and have fun. Because ultimately, that's what we're all about."