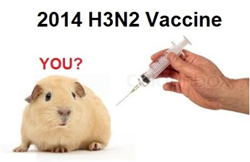 "This Phenomenon could pose a cause for concern in the context of human immune responses to influenza vaccination programs." – Medical Study Posted at National Center for Biotechnology Information Website
Big Canoe, GA (PRWEB) December 11, 2014
The CDC says that this year's Influenza vaccine does not match the primary H3N2 flu strain which is circulating, yet they continue to promote getting the vaccine this season - even though 50 years of research indicates a potentially deadly outcome for those that do receive this particular vaccine. At issue is a well-studied phenomenon known as "Original Antigenic Sin." This in-depth original research article, released by startup online news outlet TheMountainsVoice.net, is compiled using research data from a dozen documented reference sources all identified in the full article.
On December 4th 2014, the CDC issued a Press Release [1, 2] stating that the current Flu Vaccine was not going to be a good match for the H3N2 flu strains which will be circulating this winter; that the virus had "drifted" --- (Layman's Term: mutated or changed) --- away from the antibody formulation used in the vaccine. Yet the CDC is "still strongly recommending vaccination" claiming that "vaccination has been found to provide some protection against drifted viruses in past seasons."
The limited protection that the mismatched vaccine would provide is referred to as cross-reactivity. However, to insinuate that vaccination will produce the benefits of cross-reactivity is a very misleading claim, and only tells one side of the story. The other side of the story involves something commonly referred to since the 1950's as the "Doctrine of Original Antigenic Sin" [3 - 6]. This well established research subject helps to explain how "original antigenic sin could make vaccinated people more susceptible to the virus than those who are unvaccinated [7]."
CROSS-REACTIVITY vs. ORIGINAL ANTIGENIC SIN
Normally when someone is vaccinated for an existing flu strain – let's call it Flu-1 - they develop Flu-1 antibodies. If Flu-1 "drifts" (mutates) far enough to create a new flu – let's call it Flu-2 - then the Flu-1 antibodies are NOT a good match to the Flu-2 virus, and subsequently the Flu-1 vaccine created antibodies won't work against the new Flu-2 virus, unless cross-reactivity is exhibited. Cross-Reactivity is a term which indicates the Flu-1 antibodies may still provide some limited protection against Flu-2 virus. So cross-reactivity is considered an "OK" thing, because some protection (even if minimal) is better than none.
Original Antigenic Sin (OAS) is completely different, and if triggered in the above scenario would result in a bad outcome. According to a 2012 research article released by Emory University, OAS "can impair immune responses to new flu strains [8]." Imagine the scenario above in which a person gets a Flu-1 vaccine, develops Flu-1 antibodies, and then later catches the Flu-2, which has changed enough that the vaccine doesn't even provide partial protection. OAS involves this scenario taking place PLUS one additional negative factor: The body still has a false "immune memory" of the Flu-1 antibodies, and it thinks that the Flu-1 antibodies will still work against Flu-2 virus [9]. So when the body detects the Flu-2 infection, it launches the wrong response - putting all of its energy into creating the WRONG Flu-1 antibodies, and all the while the Flu-2 virus is multiplying and establishing itself in the body with a very high viral load.
IF OAS is triggered by a vaccine that doesn't match the strain of flu circulating (as is the case this year) – then the vaccine recipients are potentially in much worse condition than if they had never received the vaccine in the first place. If the vaccine recipient is also in a high risk category, then their chances of having major complications, being hospitalized, or dying increase.
Read the entire story, with full supporting research references, at our main news site:
http://themountainsvoice.net/why-this-years-flu-vaccine-may-make-you-sicker-p262-161.htm
REFERENCES:
1. CDC Press Release: Early Data Suggests Potentially Severe Flu Season - Thursday, Dec 4, 2014
http://www.cdc.gov/media/releases/2014/p1204-flu-season.html
2. CDC Media Briefing associated with Press Release on Thursday, December 4, 2014
Transcript: http://www.cdc.gov/media/releases/2014/t1204-flu-season.html
Audio: http://www.cdc.gov/media/releases/2014/t1204-flu-season.mp3
3. Francis T. 1955. The current status of the control of influenza. Ann. Intern. Med. 43:534–538. http://dx.doi.org/10.7326/0003-4819-43-3-534.
4. Davenport. F. M. and Hennessy, A. V. (1956) Serologic recapitulation of past experiences with influenza A: antibody response to monovalent vaccine. J. Exp. Med. 104. 85—97.
http://www.ncbi.nlm.nih.gov/pmc/articles/PMC2136633/pdf/85.pdf
5. Francis T. 1960. On the doctrine of original antigenic sin. Proc. Am. Philos. Soc. 104:572–578.
6. Disquisitions on Original Antigenic Sin: I. Evidence in Man; SFS Groth, RG Webster - The Journal of Experimental Medicine, 1966. http://www.ncbi.nlm.nih.gov/pmc/articles/PMC2138235/pdf/331.pdf
7. Original sin and the risk of epidemics. University of Cambridge Research; published 10 Oct 2012
http://www.cam.ac.uk/research/news/original-sin-and-the-risk-of-epidemics
8. Flu vaccine research: Overcoming 'original sin' – Emory University; published August 17, 2012
http://www.sciencedaily.com/releases/2012/08/120817092509.htm
9. Pan K (2011) Understanding Original Antigenic Sin in Influenza with a Dynamical System. PLoS ONE 6(8): e23910. doi:10.1371/journal.pone.0023910
http://www.plosone.org/article/fetchObject.action?uri=info%3Adoi%2F10.1371%2Fjournal.pone.0023910&representation=PDF
ABOUT THE AUTHOR: david is an independent writer/researcher and publisher. He began researching infectious diseases (primarily influenza) in 2001, and was at the time one of the first bloggers to identify H5N1 as a potential future pandemic source. After over a decade of random forum and blog posts, david has launched an online regional news outlet in the North Georgia Mountains with a regional focus on political, real estate and banking investigations, along with general research and editorial pieces directed at national & global topics. This is the 1st story to be released on his new fixed online news site.