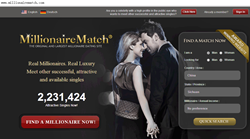 Los Angeles California (PRWEB) December 11, 2014
On Dec.10, MillionaireMatch.com, the largest dating site to date, a place where users can connect with successful and rich people, analyzed the data of its members on the physical appearance they prefer when looking for a match.
When members register on MillionaireMatch.com, they need to choose the physical appearance of their ideal match among below items: hot, very good looking, good looking, on the average, below average, other or no preference. The results indicate that nearly 90% of people choose "No preference" about the physical characteristics of their potential partner.
On the other hand, MillionaireMatch.com analyzed the data of people who did not choose "No preference" in order to make the difference between male and female regarding their match's look.
The largest percentage of males as well as females confirmed that they prefer their partner to be good looking. However, there is a significant difference between males and females on whether their match should be sexy. 24.09% of men hope their match to be hot, while only 9.67% of women think their match should be hot.
This may also be explained by the idea that guys can often motivated more by sex whereas most women can often be inspired more by the idea of a perfect relationship. Men who choose "hot" outnumber women who choose "On the average." It seems that women show more interest on the inner quality than the physical appearance.
However, the data on MillionaireMatch.com shows that most people have no particular preference when it comes to the physical appearance of their future partners. The conclusion would be simple: Physical appearance is only one brick in the strong fortress of true love with a millionaire!
About MillionaireMatch.com
MillionaireMatch.com is the largest millionaire dating site which has been bringing together successful singles for over 12 years. It was voted "Best of the Web" by Forbes.com. Its members include CEOs, pro athletes, doctors, lawyers, investors, entrepreneurs, beauty queens, fitness models and Hollywood celebrities, just to name a few.