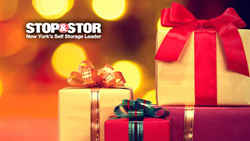 Hide your holiday gifts at Stop & Stor Self Storage
New York, NY (PRWEB) December 11, 2014
Can't find a good spot to store those holiday gifts? Hiding them under the bed or in the closet is not working? Why not store those holiday gifts in a small, inexpensive storage unit? http://www.stopandstor.com It's a no brainer, and simple to do.
It's probably something that gets passed by each and every day on the way to work or running errands. That self-storage location is the perfect place to hide those holiday gifts that just can't seem to keep out of sight till that big day. Bikes, golf clubs, skis, maybe even that fur coat is pretty difficult to keep out of sight. Why not stop and see just how easy and cheap it would be to hold the goodies for a month or two where they'll not only be safe, but far away from those wandering eyes.
It's such a great idea - even share this brainstorm with family, co-workers, friends and neighbors. Share the fame and cut the cost and let others in on a great way to avoid those awkward discoveries days before the holiday surprise.
So let them peek behind the curtains, on the top shelf of the closet or even under the sink… everything will be neatly waiting for them. This idea might be so good, why not keep the self-storage unit after the holidays and keep some of that post-holiday clutter or decorations out of your hair.