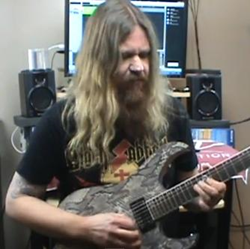 (PRWEB) December 11, 2014
Let it Be by The Beatles was originally performed on the piano and Darrin teaches a guitar arrangement that uses finger picking to simulate the way it was played on piano. In this second part of this easy guitar lesson Darrin demonstrates the chorus and bridge. Goodman demonstrates the chords used in the chorus as follows; Am (A minor), G, F and C. Darrin demonstrates how to perform the chorus using an alternating bass line which he says is typically played on the down beat, but in this case it is played on the up beat. The bridge is made up of a melody which is performed using dyads or double stops so it harmonizes with its self. Guitar TAB's are available for this easy rhythm guitar lesson at GuitarControl.com.
Double Stops is the technique of playing two strings at the same time, usually done using the hybrid picking technique.
The Beatles was an English rock band from Liverpool. They are regarded as the most successful and influential rock band of all time. Over the course of there career they released 12 albums before disbanding in 1970, selling over 177 million albums. They hold the record for the most Hot 100 Hits and have received ten Grammy Awards.
Darrin Goodman
Darrin Goodman, a native of Ogden Utah, began playing guitar at the age of 12 after hearing KISS at an earlier age. Darrin has been a local finalist for the King of the Blues contest and is the lead guitarist of international recording artist Sonic Prophecy who has performed with artists such as Accept, Sabaton Cinderella and Ratt. Darrin has been teaching private lessons to 30 to 60 students a week from his home studio since 1987.
About GuitarControl.com
GuitarControl.com is the leader in modern guitar instruction. It's packed with recourses including articles, video lessons, and the best videos in the business for the beginner to the advanced guitar student taught by the best instructors out there. Weather you are into the blues, rock, jazz, metal, folk, or anything in between, they have you covered.