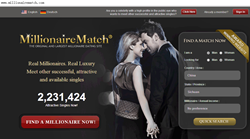 Los Angeles California (PRWEB) December 12, 2014
On Dec 10, MillionaireMatch.com, the largest millionaire dating site, analyzed the data of single fathers and single mothers on the children issue when looking for their match.
When asked whether they want more children with future partners, apart from people who choose "Please ask me", 31.87% of single fathers and 38.74% of single mothers choose "Yes". Only 18.78% of single fathers and 14.14% of single mothers on the millionaire matchmaker site claim that they are perfectly happy with the children they already have. Others are still undecided whether they want children with their future spouse or not.
Apart from 84% of single fathers and 74.6% of single mothers who do not think children is an important issue, nearly 80% of single fathers don't want to find a match who already has a child or children. Similarly, 72.88% of single mothers will definitely say "No" to single fathers.
There are approximately 13.7 million single parents in the United States according to a report released by the U.S. Census Bureau every two years (and most recently in December 2011), For most single parents on MillionaireMatch.com, whether their partner has a child or children will not influence them on choosing a partner. For other single moms and fathers, they hope to find a match who does not have a child. They prefer more children with their match in the future.
The above results suggest a rule that people who use this site are open minded. Those people, who have already achieved big goals in business as well as in parenting, think children are a source of joy. MillionaireMatch.com accepts them and deeply believes that everyone has a soul mate.
Nothing in this world, especially not children, can be an obstacle to true love. Moreover, most of those single parents would like to have more children with their partners in future, which is really admirable.
About MillionaireMatch.com
MillionaireMatch.com is a dating site which has been bringing together successful singles for over 13 years. Customers on MillionaireMatch include CEOs, pro athletes, doctors, lawyers, investors, entrepreneurs, beauty queens, fitness models and Hollywood celebrities. It also was voted as "Best of the Web" by Forbes.com.