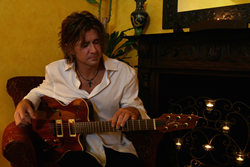 It's incredibly satisfying to see someone not only improve their skills as a musician, but grow as a person on all levels.
Saint Louis, Missouri (PRWEB) December 16, 2014
"It's incredibly satisfying to see someone not only improve their skills as a musician, but grow as a person on all levels. I enjoy helping them realize the power of music and how profound the learning process can be" stated Matthew Von Doran, Founder and Instructor of 99 Decisions.
Von Doran has created a guitar program that focuses on more than just where and when to put your fingers on the instrument. This course is about developing all the skills involved in playing music. This includes things like goal clarification, time management, effective mindset, total body awareness and more. These are the things that Von Doran has been emphasizing in over 35 years of music instruction experience. Without all of these elements, it is rare that a person becomes the player that they want to be.
Von Doran has forged an accessible, streamlined method for learning the guitar. With easy-to-digest video lessons, the student can learn all the fundamental skills they need to play the music they love. With 24/7 access on any device, they can learn at their own pace.
The curriculum is a result of Von Doran's extensive work with private students, music clinics, and college programs, which led to identifying the core issues that keep students from improving the musicianship skills they need.
"After a while, I realized that the same issues keep showing up for all different kinds of students, regardless of their age, ability, style or anything else. To me, this indicated that these issues were at the core of the psychological and physiological level of the learner's experience. I love researching the science side of the learning process and everything that includes. Metacognition is a big buzzword in education today. I think integrating this approach into the experience makes a huge difference with the student being successful in their efforts."
Each of the 99 video lessons, ranging from 2 to 20 minutes, represents a decision on the student's part to focus on a digestible amount of information, thus breaking down the goal of learning to play the guitar into manageable tasks.
"99 Decisions is also scalable so that you can easily fit it into your schedule. You can go through all the lessons in order or jump around and explore. This approach keeps it fluid and fun so that there isn't any stress."
Along with the 99 lessons, there are bonus lessons, songs and play-along tracks that will further enable the student's growth as a guitarist, with more content added regularly.
There's also a collection of videos called The Fulfillment Factor, which are designed to show one how to build confidence, practice efficiently and maintain an effective mind set.
Because learning to play is easier when there is an environment of support and encouragement, the 99 Decisions program promotes a community of fellow players that can stay connected through the social media forums, blogs and webinars.
All of this comes with the onetime purchase of the program. Students have their own account that they login to. It keeps track of which lessons have been watched, and video speeds can be adjusted to meet individual learning needs.
With myriad of video guitar lessons online, there is an inherent lack of structure, continuity and flow. 99 Decisions is designed to provide a clear and comprehensive procedure, as well as being scalable if someone wants to tailor the course to fit their objectives for their guitar playing. The end result is a fun and organized personal practice regimen that fits into busy lifestyles and promotes facility and understanding.