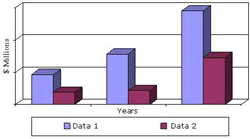 Global Market for Enteric Disease Technologies to Reach $14.6 Billion in 2018
Wellesley, Mass (PRWEB) December 11, 2014
BCC Research (http://www.bccresearch.com) reveals that the rising incidence of enteric diseases, along with increasing global population, availability of the treatment technologies and growing health awareness worldwide has consequently led to the surging use of enteric disease technologies in the past few years. The global market for enteric disease diagnostics and testing was valued at $4.6 billion in 2013 and is expected to grow at a compound annual growth rate (CAGR) of 25.8% from 2013 to 2018, to reach nearly $14.6 billion in 2018.
In developing countries the main factors for the spread and acceleration in enteric diseases are global warming, unsatisfactory drainage, sanitation, overcrowding and poor hygiene. Many of these are the major factors for the rapid rise in worldwide enteric infection. With the development of new vaccines for prevention, the sales of enteric disease technologies are anticipated to climb in the near future. In addition, global warming and travel are leading to an advance in the transmission of these diseases and also a rise in awareness. All of this is leading to a healthy boost in the market's size.
In terms of region, the markets of Asia-Pacific, Africa, and Latin America are predicted to grow swiftly in the next few years. This can largely be attributed to the introduction of rapid dipstick tests. These tests can be used by the patient, which is another factor for the anticipated growth in this space. In addition, these countries' economies are improving, and lower healthcare costs are expected to help the market's growth along with new strains being introduced.
"The global rise in temperatures has led to survival of causative agents and further spread," says BCC Research healthcare analyst Usha Nagavarapu. "There is a critical need for a point of care, and improved, specific diagnostic technologies in this market."
Enteric Disease Testing and Treatment: Technologies and Global Markets is an exhaustive study on the global enteric or gastrointestinal market with statistics regarding incidence and analysis of testing diagnostic technologies, vaccine development, latest trends, market structure, market size, key drug segments and trends in technology.
Editors and reporters who wish to speak with the analyst should contact Steven Cumming at steven(dot)cumming(at)bccresearch(dot)com.
About BCC Research
BCC Research publishes market research reports that make organizations worldwide more profitable with intelligence that drives smart business decisions. These reports cover today's major industrial and technology sectors, including emerging markets. For more than 40 years we've helped customers identify new market opportunities with accurate and reliable data and insight, including market sizing, forecasting, industry overviews, and identification of significant trends and key market participants. We partner with analysts who are experts in specific areas of industry and technology, providing unbiased measurements and assessments of global markets. Recently selected as the world's greatest market research company, BCC Research is a unit of Eli Global, LLC. Visit our website at http://www.bccresearch.com. Contact us: (+1) 781-489-7301 (U.S. Eastern time), or email information(at)bccresearch(dot)com.
BCC Research reports cover markets that hold significant opportunities because of their growth and innovation. The information is used by organizations worldwide to inform strategic business decisions and to support the development of strong business cases and product commercialization scenarios with:

Regional and global market sizing and five-year growth projections
Analysis of key industry trends and opportunities
Identification and profiles of the market's key participants