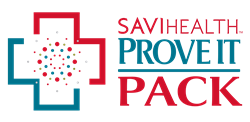 "We have every confidence SAVI Vital can help people protect and improve their health because it delivers the powerful components of the Mediterranean diet." Mike Larkins, president of SAVI Health
Salt Lake City, UT (PRWEB) December 17, 2014
SAVI Health, a Utah company whose mission is to help people build their best life, is making it easier—and more affordable—than ever for consumers to understand and address the impact of cellular inflammation in their body.
The SAVI Health Prove It Pack™ is unlike anything else in the nutritional products space. It includes three bottles of all-natural SAVI Vital™, a nutritional supplement, plus prepaid before and after blood tests fulfilled by LabCorp. If, after 45 days of using SAVI Vital, the purchaser does not see an improvement in at least one of eight tested blood markers, SAVI Health will refund the purchase price of the Prove It Pack.
"We have every confidence SAVI Vital can help people protect and improve their health because it delivers the powerful components of the Mediterranean diet and the benefits they provide that address cellular inflammation. In 2013, a study in the New England Journal of Medicine showed the Mediterranean diet reduced the risk of heart attack and stroke by 30% when compared to a standard diet," said Mike Larkins, president of SAVI Health. "Cellular inflammation contributes to dozens of health issues and we are committed to helping people everywhere know more about it and how to address it"
SAVI Vital, introduced in 2013, was formulated by Greg Horn, former CEO of General Nutrition Corporation. It includes the Med Trio™ Proprietary Blend—hydroxytyrosol from olives, resveratrol from red wine, and lycopene from vine-ripened tomatoes—plus the Mediterranean Factors™ Proprietary Blend, an additional 19 ingredients common to the Mediterranean diet.
The markers included in both blood tests are:
1. High sensitivity C-Reactive Protein (hsCRP)
2. Total Cholesterol
3. Triglycerides
4. High-Density Lipoprotein (HDL)
5. Very Low-Density Lipoprotein (VLDL)
6. Low-Density Lipoprotein (LDL)
7. Total Cholesterol/HDL Ratio
8. Estimated Coronary Heart Disease (CHD) Risk
Through Dec. 31, 2014, the Prove It Pack is available for just $199.99, an incredible value when considering the cost of two separate blood tests. Individuals interested in purchasing the Prove It Pack should contact SAVI Health at 1.855.322.2214.
# # #
About SAVI Health International
SAVI Health International is the creation of entrepreneurs who put values ahead of profit and who have made it their life mission to help others achieve more in health, personal development, and financial wellbeing. SAVI Health's mission is to help people build their best life and is guided in this effort by The SAVI Way, 16 principles that keep this mission at the forefront. For more information, please visit SAVI Health at http://www.savihealth.com.

These statements have not been evaluated by the Food and Drug Administration. This product is not intended to diagnose, treat, cure or prevent any disease.