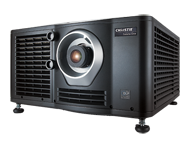 Truly exciting visuals and memorable experiences
Singapore (PRWEB) December 16, 2014
Christie®, a global leader in digital cinema technologies, is proud to announce that its state-of-the-art cinema solutions have been installed at Shaw Theatres' new cineplex housed within Singapore's latest suburban shopping complex, The Seletar Mall.
Known as Shaw Theatres Seletar, it is the eighth cineplex operated by the 90-year-old cinema chain in the rapidly developing northeastern region of Singapore. It consists of eight theater auditoriums with over 700 spacious, comfortable seats and modern amenities for a spectacular movie-going experience for patrons of all ages. The cineplex also features Shaw Theatres' first ever boothless projection room, which maximizes space and enhances operational efficiency.
All auditoriums are equipped with Christie digital cinema solutions that deliver awe-inspiring projected visuals for a highly immersive cinema experience. Leading the impressive lineup is the much-heralded Christie Solaria One+ projectors that offer precise, vivid color with superior contrast ratios ideal for screens up to 35 feet wide. The Christie Solaria One+ is equipped with a motorized lens, custom-designed Xenon lamp, 2D and 3D capability, brightness of 8000 lumens in the DCI color space, and a Christie Integrated Media Block (IMB) with its own, easy to operate Screen Management Software (SMS). It can also be easily upgraded to play high frame rate (HFR) movies.
Control over auditorium functions are accomplished with the Christie ACT Digital Cinema Theatre Control, a very powerful and flexible program that allows exhibitors to adjust light dimmers, masking motors, audio levels, or the projector and server from any web capable device on the same network. Also included is the Christie Network Attached Storage (NAS), which works in tandem with the IMB, and is designed to maximize the brightness and reliability of Christie's digital cinema projection solutions.
"We have installed an extensive range of Christie digital cinema solutions, including the high performance Solaria One+ projectors in our latest cineplex at Seletar Mall," said Mark Shaw, executive vice president, Operations, Shaw Theatres. "Christie's visual solutions are well known for their quality and reliability. We are confident that their cinema solutions fitted here will offer quality visual and cinematic experience for all movie patrons."
Lin Yu, Vice President, Christie Asia Pacific, said, "Christie is honored to work with Shaw Theatres to have a range of our advanced digital cinema solutions installed in all eight auditoriums of its newest cinema located in one of the fastest growing residential estates in Singapore. The audience can look forward to enjoying our brilliant projections that offer truly exciting visuals and memorable experiences."
About Shaw Theatres
Shaw Theatres, founded by the Shaw Brothers (Tan Sri Runme Shaw and Sir Run Run Shaw), has been operating cinemas in Singapore since 1924. The company currently operates eight theatre locations with close to 50 screens across the island. For more information, visit http://www.shaw.sg.
About Christie®
Christie Digital Systems USA, Inc. is a global visual technologies company and is a wholly-owned subsidiary of Ushio, Inc., Japan. Consistently setting the standards by being the first to market some of the world's most advanced projectors and complete system displays, Christie is recognized as one of the most innovative visual technology companies in the world. From retail displays to Hollywood, mission critical command centers to classrooms and training simulators, Christie display solutions and projectors capture the attention of audiences around the world with dynamic and stunning images. Visit http://www.christiedigital.com.
Follow us:
Facebook.com/christiedigital
Twitter.com/christiedigital
Christie® is a registered trademark of Christie Digital Systems USA, Inc., registered in the United States of America and certain other countries.
DLP® is registered trademarks of Texas Instruments.
​​