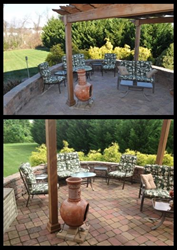 Eagle Wings Business Network works in Pennsylvania, Maryland, and Delaware. They are a diversified and well-established company that stands behind their work.
Leola, PA (PRWEB) December 12, 2014
The original outdoor living area built in 2004 was slowing collapsing due to a lack of foundation support, compaction, water drainage, and the continuous extreme winter conditions. Eagle Wings Business Network re-established the foundation by relaying the patio for water to flow away from the house and to prevent puddles. EWBN also installed water drains to prevent the water from slowing seeping through the paver sand and entering into the foundation of structure. The costumers were thrilled that the construction caused no damage to the lawn and surrounding landscape.
Skip and Rita M. stated, "The men in EWBN were polite, on time, and they kept the job looking organized. It was actually a pleasure, we enjoyed having Eagle Wings over. It was a wonderful experience on our part and when EWBN got finished the patio was beautiful, it was an improvement even more so when it was first built."
Reuben Stoltzfus is the founder and CEO of Eagle Wings Business Network. The company is family owned and operated; they have experience in hardscape, landscape, construction, finished basements, and much more. They have dedicated their careers to serving their customers with quality and experience from the beginning to the end of each project. Satisfied customers continue to have Eagle Wings Business Network return for more home improvement projects.
Eagle Wings Business Network works in Pennsylvania, Maryland, and Delaware. They are a diversified and well-established company that stands behind their work. Contact Eagle Wings Business Network for more information and to schedule a free estimate. Or visit their website at http://www.ewbn.net
Media Contact
Sam Stoltzfus
717-556-0741
info(at)ewbn(dot)net
ewbn.net