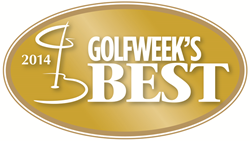 ORLANDO, Fla. (PRWEB) December 11, 2014
As part of its December double issue, Golfweek will unveil the ninth-annual Golfweek's Best Casino Courses list, which recognizes the top 50 courses across the United States that have raised the stakes for golf and gaming. Whether golfers are looking for a renowned hotspot such as No. 1 Shadow Creek Golf Course in North Las Vegas, Nevada, or a hidden gem such as No. 14 Ak-Chin Southern Dunes in Maricopa, Arizona, this year's list takes the gamble out of travel planning by providing a winning guide to the hottest places to tee it up and double down.
"Casino-based golf courses represent one of the most vibrant components of the American golf market," said Bradley S. Klein, national director of the Golfweek's Best rating program. "Our raters have come up with a list of the top 50 that includes selections from 19 states – with Arizona leading the way with nine. I'm also proud to say we have two newcomers to the list: Nemacolin Woodlands (Mystic Rock) in Farmington, Pennsylvania, at No. 10 and Sewailo Golf Course in Tucson, Arizona, at No. 36."
In addition to the in-book rankings, Golfweek continues to up the ante for golf and gaming coverage with a featured section in the December issue of Golf Life Extra (GLX) – the brand's free, travel-focused e-magazine. This month's edition explores some of the country's greatest casino golf resorts, including newcomers and other top-rated tracks from the 2014 Golfweek's Best Casino Courses list.
Visit Golfweek.com/Travel to check out Golfweek's GLX and to view the complete list of Golfweek's Best Casino Courses.
About Golfweek's Best
Since beginning its rating system in 1997, Golfweek has developed the most respected ranking structure in the industry. Golfweek's expert team of course raters, which currently boasts 725 evaluators, rates each nominated course on the basis of Golfweek's 10 strict standards of evaluation. Collectively, Golfweek raters have turned in more than 65,000 votes. Golfweek's Best Courses lists include: Modern, Classic, Casino, Municipal, Campus, Residential, Resort, Canadian, Caribbean & Mexico, Great Britain & Ireland and Courses You Can Play. The full criteria for evaluating the golf courses may be found at Golfweek.com/GolfweeksBest.
About Golfweek
Founded in 1975, Golfweek is the most authentic, authoritative and independent voice in golf. Serving enthusiasts who are truly passionate about the game of golf, the Golfweek brand includes Golfweek magazine, Golfweek.com, Golfweek OnDemand, Golfweek Mobile, Golfweek Custom Media, The Golf Wire, The Apparel Wire, The Tour Van and TurfNet.com. Golfweek is part of Turnstile Media Group, which specializes in developing diverse media platforms that engage and strengthen the communities they serve. Founded in 1990 and headquartered in Orlando, Fla., Turnstile Media Group is also the parent of Professional Artist, Community Media Holdings, The Seminole Voice, The Winter Park/Maitland Observer and Turnstile Connect.
###