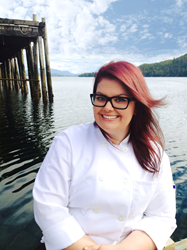 Ketchikan, Alaska (PRWEB) December 11, 2014
The Waterfall Group, leaders in adventure hospitality management, announces the appointment of Executive Chef Meagan Kilgore. Chef Kilgore will now oversee dining operations at Alaska's most popular fishing lodge, Waterfall Resort, and will continue to develop creative upscale Alaskan fare at the luxurious Steamboat Bay Fishing Club during the 2015 summer season.
This marks Chef Kilgore's first season as Executive Chef overseeing the culinary program at Waterfall Resort after serving as Chef de Cuisine last year at Steamboat Bay Fishing Club. Previously, Chef Kilgore was Executive Chef of Copper River Lodge in Pope Vannoy, Alaska, a subsidiary of Sweetwater Travel. Prior to that, she served as Executive Chef at Journey's Pub, a small pub-bistro in Portland, Ore. where she fine-tuned her expertise in classic American cuisine with a Pacific Northwest twist. Chef Kilgore's background also includes tenures at Tualatin Country Club in Tualatin, Ore. and at Sea Sport Cruises in Wailuku, Hawaii, where she opened and developed Ola Catering and Porto Pizzeria.
"We are excited to welcome Chef Kilgore to our leadership team at Waterfall Resort," said Steve Cockrell, General Manager at The Waterfall Group. "She has been a driving force behind the success of Steamboat Bay Fishing Club's 2014 culinary programs. Now guests at both of our Alaska sport fishing properties will benefit from dining experiences that feature her innovative approach to upscale comfort food."
In her new role, Chef Kilgore will take a casual and accessible approach to the menu at Waterfall Resort while focusing on quality. After a full day of fishing, guests will feast on hearty Alaskan fare suitable for hungry anglers. The enhanced culinary program under Chef Kilgore will offer a rotating assortment of noteworthy dishes served buffet-style, including traditional favorites like grilled Angus beef, lasagna, prime rib, creamy Dijon stroganoff and roasted chicken combined with a taste of fresh Alaskan seafood such as Cedar Plank Salmon, Dungeness Crab and Halibut.
Waterfall Resort's 2015 season is from June 12 - August 17, and Steamboat Bay Fishing Club's season is set for June 21 – August 8.
For more information visit http://www.WaterfallResort.com or call 800.544.5125.
###
About The Waterfall Group
Accessible from Ketchikan in Southeast Alaska, Waterfall Resort is the most popular fishing lodge in Alaska, presented by The Waterfall Group. Founded in 1982, The Waterfall Group destinations are known for their unique accommodations, friendly customer service, expert marine crews, and close proximities to the best sport fishing in Alaska. Welcoming more than 50,000 guests at its resorts, The Waterfall Group boasts an impressive guest return rate that includes multiple generations. The Waterfall Group also manages Waterfall Resort's exclusive luxury sister property, Steamboat Bay Fishing Club, the closest lodge to the best fishing in Southeast Alaska.