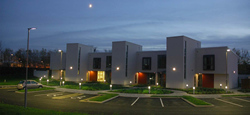 Our mission is to help these clients better manage their energy costs so as to add to their bottom line, during the holidays and all year long.
Clearwater, FL (PRWEB) December 11, 2014
According to a study by the Small Business Administration, small companies tend to pay significantly higher prices for electricity and natural gas than their larger competitors. In the commercial sector, for example, which includes retail, health care, and a wide variety of service industries, the SBA found that small businesses face a 30% price differential for electricity and a 20% price differential for natural gas. In manufacturing, the smallest companies (under 50 employees) pay 35% more for electricity than the sector average, while the largest companies (1,000 or more employees) pay 17% less than the sector average.1 "What this boils down to," says Patrick J. Clouden, CEO and Co-founder, Consumer Energy Solutions, Inc. (CES), "is a significant competitive disadvantage for smaller companies. To remain competitive and increase profits, these companies need to take advantage of the latest energy-saving technologies, and seek experienced guidance in finding and contracting the most favorable energy prices possible."
This is particularly important, Clouden notes, during the end-of-the-year holiday season, a crucial sales period for small businesses. According to the National Retail Federation, sales in November and December can account for as much as 30% of a retailer's annual sales. 2 For numerous other types of small businesses as well, December is the most important sales month of the year.3
However, as many small business owners and managers discovered during the Polar Vortex in early 2014 when "the polar jet stream was kinked enough to build a large ridge in the west…greatly influencing the air that set records in the northern plains and Great Lakes"4, it is easy to lose a significant portion of those profits to high energy costs. Small Business Trends, noting that the average small business spends nearly $8,000 per year on electricity alone, offers some suggestions on ways businesses can cut costs and become more energy efficient for the holidays:

Install a programmable thermostat. During the hectic holiday season, checking a thermostat setting is the farthest thing from most managers' minds. Studies have shown that a programmable thermostat can yield savings of 10% to 20% on heating and cooling costs after installation.
Replace conventional lighting. LED lighting is one of the quickest ways business owners can reduce their energy bill. LED lights use up to 80% less electricity than the equivalent conventional halogen bulb and last much longer.5
"One thing we do for our commercial clients is a lighting audit," says CES's Clouden. "We'll run the numbers on their current lighting costs and what would be saved by upgrading to LED. While the upfront costs could be considerable, the savings in energy consumption and maintenance, coupled with lease-purchase financing, can enable an immediate monthly positive cash flow and a quick payback."
CES offers its clients a variety of options for purchasing energy. The company's combination of energy-efficient lighting and an optimized approach to energy purchase can have a significant impact on overall operating costs. This is particularly true, Clouden notes, in the case of facilities such as hospitals, which need to keep the lights on and the electrical systems running 24 hours a day, seven days a week. U.S. hospitals, according to the Department of Energy's Healthcare Environmental Resource Center, use an average of 27.5 kilowatt hours and 110 cubic feet of natural gas per square foot annually. Based on average energy prices, this translates to a total energy cost of $3.71 per square foot. Healthcare facilities that have implemented extensive energy efficiency programs have been able to cut energy use by 20%. For a 150,000-sq-ft hospital, this can mean annual savings of $111,300.6
Another type of business that can benefit significantly from energy efficiency and energy cost management is parking garages. "When people think about saving energy," Clouden points out, "they tend to think first of inhabited space—office buildings, stores, hospitals, and so on." In fact, however, recently published statistics show that a common type of largely uninhabited space—parking garages—consume as much or more electricity per square foot as most types of commercial buildings. They are also greater consumers of natural gas than any other category than food service.7
CES works with businesses of all kinds: 300,000 commercial customers across the United States and Canada, including many Fortune 500 companies. "Our mission is to help these clients better manage their energy costs so as to add to their bottom line," Clouden says, "during the holidays and all year long."
About Consumer Energy Solutions, Inc.:
Headquartered in Clearwater, FL, Consumer Energy Solutions, Inc. (CES) is one of the nation's foremost full-service energy consulting companies, with over two million residential and 300,000 commercial customers across the United States and Canada, including many Fortune 500 companies. Founded in 1999 by Patrick J. Clouden, CES transitioned in 2004 from selling primarily to residential customers to selling primarily to businesses. The company's long-standing relationships with the largest independent energy suppliers in the U.S., coupled with its unparalleled knowledge of the industry, give CES customers access to the most competitive electricity and natural gas rates available in their area. CES is dedicated to educating its customers about the choices available to them as energy consumers, and to helping them, in a volatile energy market, to balance short-term savings against long-term risk. The company's mission is to assist its commercial clients in better managing their energy costs so as to add to their bottom line. CES is an industry leader in providing its clients with effective strategies and solutions to reduce energy costs. References are available upon request. For more information, visit http://www.consumerenergysolutions.com.
1. "Characterization and Analysis of Small Business Energy Costs," SBA Office of Advocacy, April 2008. archive.sba.gov/advo/research/rs322tot.pdf
2. NRF Foundation Retail Insight Center, October 2014. research.nrffoundation.com/Default.aspx?pg=55#.VIHagNLF-Co
3. Wave Small Business 500, December 14, 2012. waveapps.com/blog/small-business-maximize-december-sales/
4. ABC News. ABC News Network, n.d. Web. 9 Dec. 2014. abcnews.go.com/US/polar-vortex-misused-weather-term-2014/story?id=26793261.
5. Small Business Trends, October 29, 2014. smallbiztrends.com/2014/10/getting-your-business-energy-efficient.html
6. Healthcare Environmental Resource Center, U.S. Department of Energy. hercenter.org/facilitiesandgrounds/energy.cfm
7. Macurco Gas Detection Inc. images2.cableorganizer.com/3m-macurco/dvp-120/pdfs/energy-article.pdf