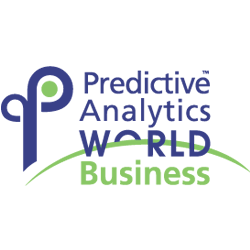 It was a natural evolution of the PAW brand to add business to accurately illustrate PAW's concentration on business applications.
Santa Barbara, CA (PRWEB) December 15, 2014
With an updated name and renewed vision, Predictive Analytics World (PAW) for Business is set to make waves at the San Francisco Marriott Marquis from March 29 - April 2, 2015.
The new PAW Business moniker will make its appearance at San Francisco, to be followed by PAW Business events in Chicago, Boston, London and Berlin.
"Over the past 12 months we have launched industry-specific PAW events that spotlight the role of predictive analytics in manufacturing, government, healthcare and the workforce," Adam Kahn, Chief Operating Officer of Rising Media noted. "It was a natural evolution of the PAW brand to add business to accurately illustrate PAW's concentration on business applications."
PAW Business is making its 2015 debut with an action-packed San Francisco agenda. Talks will center on hot topics and advanced analytical methods in predictive retail analytics, targeted marketing with predictive analytics, insurance applications of predictive analytics, analytics in gaming, uplift modeling, and much more.
3 World-Renowned Keynote Speakers
The San Francisco conference kicks off on Tuesday, March 31, as Dean Abbott, Co-Founder and Chief Data Scientist of Smarter Remarketer, discusses The Revolution in Retail Customer Intelligence.
After lunch, Jack Levis, Senior Director of Project Management at UPS will take the stage. Back by popular demand, Levis will present his insightful keynote on UPS Analytics – The Road to Optimization.
On the final day, Bin Mu, Vice President of Business Analytics at MetLife – will give attendees an insider's perspective on Advances in Predictive Analytics Deployment at MetLife.
5 Co-Located Analytics Events
This year, PAW Business San Francisco is co-located with not one, but five related analytics events in its downtown location:
1. Predictive Analytics World for Workforce
2. Text Analytics World
3. eMetrics Summit
4. Affiliate Management Days
5. Predictive Analytics Times Executive Breakfast
In particular, a number of business leaders are prioritizing attendance at the inaugural PAW Workforce 2015. At this event, attendees will learn how predictive analytics improves workforce retention, reduces attrition, boosts productivity, and drives down costs.
Attendees can purchase Combo passes for these events on the PAW Business registration webpage.
Super Early Bird Savings
Register by December 19th for PAW Business San Francisco (March 29 - April 2, 2015) and save up to $650 off the full price.
View the full agenda and see all of the in-depth sessions and workshops available.
About Predictive Analytics World for Business
Predictive Analytics World for Business is a world-renowned, business-focused event for predictive analytics professionals, managers and commercial practitioners. This conference delivers case studies, expertise and resources to achieve:

Bigger wins: Strengthen the impact of predictive analytics deployment
Broader capabilities: Establish new opportunities in data science
Big data: Leverage bigger data for prediction and drive bigger value
The only conference of its kind, Predictive Analytics World for Business covers a wide range of business applications across industry sectors, including marketing, credit scoring, insurance, fraud detection, web optimization and much more.
About Rising Media Events
Rising Media events provide cutting-edge, practical knowledge for business professionals to improve their day-to-day effectiveness and drive higher returns for their organizations. Attendees learn from leading experts and share knowledge with each other, as well as interacting with innovative vendors in the space. Each event brings together the best and the brightest, creating a forum for insight, energetic exchange and informed purchasing.
About Rising Media
Rising Media is a global events producer excelling in Internet and technology-related conferences and exhibitions. Rising Media-produced events include Data Driven Business, the eMetrics Summit, Conversion Conference, PAW Business, PAW Workforce, PAW Healthcare, PAW Government, PAW Manufacturing, Text Analytics World, Affiliate Management Days, Evolve with Google Analytics, Media Analytics Summit, Marketing Operations & Technology Summit, Building Business Capability, Social Media Economy Days, Web Effectiveness Conference, Inside 3D Printing Conference & Expo, Inside BitCoins, AllFacebook Marketing Conference, Digital Analytics Hub, Search Marketing Expo, SemTech and Social Gaming Summit in the US, UK, France, Germany, Sweden, Finland and Australia.