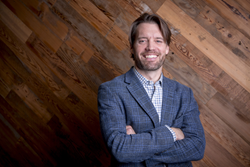 "Eric has been instrumental in leading VML's growth both from a client engagement perspective as well as growing VML's capabilities," said Jon Cook, CEO at VML.
KANSAS CITY, Mo. (PRWEB) December 11, 2014
VML, a leading global marketing agency, today announced the appointment of Eric Campbell as the agency's new president. Jon Cook has served as the global CEO since 2011 and president since 2007. With the promotion of Campbell to president, Cook will continue as the global CEO. Campbell will continue to report to Cook, partnering on the evolution of the agency alongside VML's executive leadership team.
As VML's president, Campbell will be responsible for VML's business planning and strategic leadership across the agency's offices, ensuring continued growth across current client engagements and new business efforts. He is known for his leadership with VML teams as well as his ability to leverage the agency's capabilities to drive competitive differentiation for client partners.
Campbell, previously chief business officer at VML, was responsible for the launch of VML Seattle in 2004 while leading the Microsoft business, and has been integral in VML's inclusion in Team WPP operations such as Cavalry, which services Coors Light, Coors Banquet and MillerCoors. Campbell has an impressive track record in his strategic leadership roles across major VML client partners.
"Eric has been instrumental in leading VML's growth both from a client engagement perspective as well as growing VML's capabilities," said Jon Cook, CEO at VML. "His deep understanding of how the marketing landscape is transforming has led VML to deeper consultative and strategic relationships with our clients across the world. I'm thrilled to have him take on the presidency role with a focus on the continued evolution of our growth and offerings.
"One of my favorite things about VML is our consistency and tenure of great leadership. Eric is and has been at the heart of that," Cook said. "Most importantly to me, he absolutely embodies the VML passion, personality and proactive nature that have been the bedrock to our success. I could not be more excited about working with Eric in his new role."
"We've expanded geographically; more importantly, we've increased our talent and capability. I'm committed to ensuring our clients benefit from our growth, innovations and the value a fully connected VML delivers," Campbell said.
Cook will continue as the global chief executive officer, focusing on future-proofing VML's vision to ensure the global network is positioned to quickly adapt to the ever-changing communications landscape. He also will continue to lead the ongoing development of the global network infrastructure, global client partner engagements, and commitment to a consistent and thriving VML culture around the world.
Campbell's role as president is effective immediately.
###
About VML
VML is a global marketing agency that delivers forward-thinking ideas and solutions for the world's most influential brands, including: MillerCoors brands Coors and Coors Light, Charter Communications, Colgate-Palmolive, COBRA PUMA GOLF, Dell, Gatorade, the Kellogg Company, Kimberly-Clark, Krispy Kreme, Microsoft, NAPA AUTO PARTS, PepsiCo, Tennessee Tourism, Southwest Airlines, U.S. Soccer, Wendy's and Xerox.
Founded in 1992 and headquartered in Kansas City, Mo., VML has more than 2,200 employees with principal offices in 24 locations across six continents. In 2001, VML joined the world's largest communications services group WPP, and is a partner agency with Y&R within the Young & Rubicam Group. For more information, visit: http://www.vml.com.