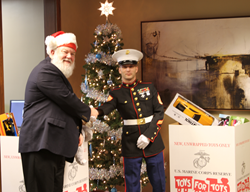 Our company and our staff enjoy being involved with the U.S. Marine Corps Reserve Toys for Tots Program and we encourage other companies to donate as well. -Steve Bentley, Avitus Group Senior VP of Finance
Billings, Montana (PRWEB) December 12, 2014
The 5th annual Yellowstone County Toys for Tots 24 hour toy drive kicked off December 12th at 3:00 p.m. in Billings, Montana at Metra Park with numerous donations, including several boxes of toys from Avitus Group and the company's employees. "Our company and our staff enjoy being involved with the U.S. Marine Corps Reserve Toys for Tots Program and we encourage other companies to donate as well. The entire Avitus Group family likes to give back to the communities we live and work in," Steve Bentley, Avitus Group Senior VP of Finance.
The mission of the U.S. Marine Corps Reserve Toys for Tots Program is to collect new, unwrapped toys during October, November and December each year, and distribute those toys as Christmas gifts to needy children in the community in which the campaign is conducted. "To all the businesses and people who have assisted and supported Toys for Tots, thank you for your help," says USMC Staff Sgt. Nick Wunsch. "Within every community there are always people who may not know about local charities in the area. With the help of businesses like Avitus Group the message of the charity is spread, affording more people within the community a chance to donate. These businesses also provide assistance to the community, as it's often times more convenient to drop off a donation at these neighborhood business.
Last year, Toys for Tots helped more than 750 families living below the poverty level in Yellowstone County. The 24 hour toy drive is the last push for donations before families shop at the "toy store" for their children this holiday season. Volunteer "Santa Shoppers" are scheduled to help families pick out toys at St. Vincent DePaul the week of December 15th. More than 32 families per hour are expected to shop the toy store. Families in need may contact St. Vincent de Paul to schedule a shopping time.
Toys for Tots is a national program that began in 1947 in California. Local campaigns are now conducted annually in more than 700 communities covering all 50 states, the District of Columbia and Puerto Rico.
Avitus Group is a worldwide company, based out of Billings, Montana. Avitus Group helps other companies with administrative hassles. When businesses use Avitus Group, all of the necessary, yet burdensome functions of the business become Avitus Group's responsibility, so the business can focus on what they do best, grow and increase profits. Avitus Group serves clients nationwide through 10 regional office locations from California to Florida. The company also serves international clients through partner locations in Europe, Canada, China, England, India, Japan and Singapore.