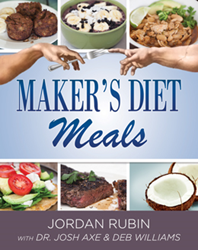 Shed unwanted pounds, while cleansing and detoxifying the body.
Shippensburg, PA (PRWEB) December 17, 2014
How would it feel to feed the family a delicious biblically inspired, beyond organic diet each and every day?
"Maker's Diet Meals" gives a step-by-step guide to creating 150 mouthwatering breakfasts, lunches, dinners, snacks, smoothies and desserts to help people lose weight and feel great. Combining the Bible's ancient wisdom with the best of modern science, "Maker's Diet Meals" unveils an eating plan that can help shed unwanted pounds, while cleansing and detoxifying the body. More than just a cookbook, "Maker's Diet Meals" will teaches the health secrets of the Bible and introduces an ancient way of eating that is gaining the attention of modern science.
Interviews, review copies and giveaway copies are available upon request.
Known as America's Biblical Health Coach, Jordan Rubin is the New York Times best-selling author of The Maker's Diet and twenty additional health titles, including his recent book, Live Beyond Organic. An international motivational speaker and host of the weekly television show "Living Beyond Organic," which reaches over 30 million households worldwide, Jordan has lectured on natural health on five continents and 46 states in the U.S. Jordan Rubin is the founder of Garden of Life, a leading whole food nutritional supplement company and has earned doctorate degrees in naturopathic medicine, nutrition, and natural therapies. In 2009, he fulfilled a lifelong dream by starting Beyond Organic, a vertically integrated company specializing in organic foods, beverages, skin and body care products that includes farming operations on over 8,000 organic acres in Missouri and Georgia. Jordan resides in southern Missouri with his wife, Nicki, and their three children, Joshua, Samuel, and Alexis.
Dr. Josh Axe is a wellness physician, popular radio show host, and author of the "Real Food Diet Cookbook." Dr. Axe works with professional athletes and celebrities to help them reach their health goals and specializes in super foods, anti-aging, and fitness.
Deborah Williams is the executive chef at Beyond Organic Ranch and leads the formulation and production team for Beyond Organic EA Live foods. Deborah has served previously as the Executive Chef at the International House of Prayer in Kansas City, MO.
Destiny Image, located in Shippensburg, Pa, was founded in 1983 by Pastor Don Nori, Sr. It seeks to accurately represent authors who have a call to share God's present word to His people and to make these authors easily accessible to the Christian body around the world in every form of media possible.
To download a press kit, click here.
FOR PRESS INQUIRIES, INTERVIEWS AND REVIEW COPIES:
Brad Herman
(719) 439-4960
bherman(at)norimediagroup(dot)com
To join our media contacts list, click here.