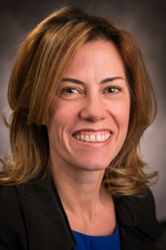 "After conducting a nationwide search, it soon became clear that Katy was the right choice to spearhead WEDC's international efforts," said Reed Hall, secretary and CEO of WEDC.
Madison, WI (PRWEB) December 15, 2014
The Wisconsin Economic Development Corporation (WEDC) has named Katy Sinnott as the organization's vice president of International Business Development.
Sinnott has more than two decades of business management and financial services experience, most of it in Asia. Before joining WEDC, she was the CEO and a board director for a chain of salons based in China. Under her leadership as CEO, the company expanded from three salons to 38 in three years.
Prior to that, Sinnott was a consultant in Hong Kong for McKinsey & Company, a global management consulting firm. She also held several positions in Hong Kong with HSBC Ltd., one of the world's largest banking and financial services organizations.
Sinnott is a Wisconsin native and a graduate of the University of Wisconsin-La Crosse with a Bachelor of Science degree in finance. After graduating from UW-La Crosse, she was awarded a scholarship to attend the Chinese University of Hong Kong through Yale University, where she completed a nine-month intensive studies course for Mandarin. Sinnott speaks Chinese and French.
"As Wisconsin expands its efforts in both helping state businesses with exporting and attracting foreign direct investment here, it takes someone with extensive international experience to lead these key initiatives," said Reed Hall, secretary and CEO of WEDC, the state's lead economic development organization. "After conducting a nationwide search, it soon became clear that Katy was the right choice to spearhead WEDC's international efforts. Her extensive experience working in the Pacific Rim area is an added advantage to WEDC."
"WEDC already has an outstanding international team and strong programs that have helped numerous companies increase their revenue and market share by starting or expanding their exporting efforts," Sinnott said. "I'm looking forward to not only working on increasing our state's exports, but also developing new and aggressive strategies to attract international businesses and capital to Wisconsin."
An experienced entrepreneur and management consultant who has worked in 38 countries, Sinnott helped launch several businesses, one in the fashion services and another one a loyalty program in China. She has considerable experience with financial services worldwide redesigning bank business processes and ensuring information services are business driven.
Prior to joining WEDC, she served as CEO of ERIC Paris Salons, a China-based chain of salon, from 2004 to 2012. During her time there as CEO, she oversaw a company that at its peak had 38 salons in six cities with revenues of $6 million and 450 employees.
As a management consultant, Sinnott oversaw the merger of two global television tube manufacturers spread across four continents, and helped design a customer loyalty program for China's second-largest oil company.
###
About the Wisconsin Economic Development Corporation
The Wisconsin Economic Development Corporation (WEDC) leads economic development efforts for the state by advancing Wisconsin's business climate. WEDC nurtures business growth and job creation by providing resources, technical support and financial assistance to companies, partners and communities in Wisconsin. WEDC has four focus areas: business and industry development, economic and community development, entrepreneurship and innovation and international business development. Together with more than 600 regional and local business development partners, it represents a highly responsive and coordinated network. Visit http://www.inwisconsin.com or follow WEDC on Twitter @_InWisconsin to learn more.