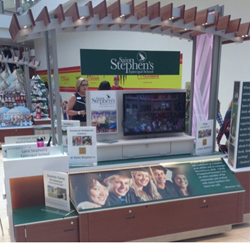 This was a unique marketing idea for our school. UTC's Grand Opening was the perfect place to reach thousands of new prospects, connect with alumni, sponsors and community leaders
Sarasota, FL (PRWEB) December 11, 2014
Saint Stephen's Episcopal School http://www.saintstephens.org is a Pre-K3-12th grade private school that has served the Sarasota, FL area for over 40 years. It has 600+ students and sits along the scenic Manatee River in Bradenton, just a short drive from downtown Sarasota.
Jim McDaniel, Director of Advancement for Saint Stephen's, started the process of planning a mall marketing program at UTC 18 months prior to the shopping center's opening. Jim states, "We knew it was the place to be to get the word out about our school, and it has paid off in so many ways. We were actually the first to contact Taubman about having a temporary mall kiosk at UTC, so I think the timing really helped us to get a great location and to work out all the details. There is so much that goes into running a mall marketing program, and we had to learn it all from scratch."
Saint Stephen's http://www.saintstephens.org has been very pro-active in marketing over the last year and is getting ready to hire a Director of Marketing that will have a focus on Digital and Event Marketing Tactics such as the mall program. Jan Pullen, Head of School for Saint Stephen's, states, "The UTC Mall Program became much more than just a marketing tactic to reach new parents and students. Surprisingly, the mall program served as a platform to reach and meet with existing SSES families, alumni and community leaders that were at the new mall." The mall had over 100,000 people visit it during Saint Stephen's two-week kiosk program. Jan states, "We could not have reached so many people using any other type of marketing method, including online." Saint Stephen's wanted also to drive consumers to its website through the mall program, so they handed out brochures, signed people up on iPads and sent follow up e-mails immediately after someone left the kiosk thanking them for stopping by.
Jim McDaniel states, "Our goal was building awareness and we accomplished that. The bonus is we have had several families interested in tours since the mall program. We believe we will see a significant conversion rate over the long term resulting from the follow up."
According to Clint Pierce, an industry expert in mall marketing, "With all the options on the internet to market your business, you still cannot replace Face to Face Marketing as a critical tactic in the marketing mix. I believe that what Saint Stephen's has done at UTC will pay off for them significantly over the long haul." Along with a presence in local newspapers, online and at events, Saint Stephen's has also begun an Ambassador Program that puts key parent volunteers in and around the community at events. Jan Pullen concluded, "We never would have done anything like this before, but it really made sense for our school. UTC allowed us to showcase our brand in a major way, and the payoff is significant."
For more information about the Saint Stephen's Mall Marketing program you can contact Jim McDaniel at Saint Stephen's Episcopal School – 941-746-2121. http://www.saintstephens.org