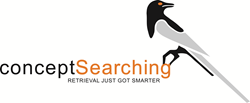 The purpose of these webinars is to share how the technical functions translate into improved organizational performance.
McLean, VA, US and Stevenage, UK (PRWEB UK) 12 December 2014
Concept Searching, a global leader in semantic metadata generation, auto-classification, and taxonomy management software, and developer of the Smart Content Framework™, is pleased to announce its 2015 Webinar Series, 'Metadata Matters'.
Poor or non-existent metadata is the fundamental problem that impacts a host of business processes and applications. In most cases, very few organizations proactively manage metadata to improve business outcomes. The 2015 series of webinars focuses on the customer, and includes guest speakers from diverse organizations and industries who have deployed Concept Searching technologies, to automatically generate business critical metadata to solve a variety of business challenges.
This webinar series has been specifically designed to share the experiences of Concept Searching clients, their challenges, and how they were able to address them as well as use the technologies to improve a various business processes. The first half of the year features clients such as Nottinghamshire County Council, Moffitt Cancer Center, AllRegs, and Brailsford & Dunlavey. Although from different industries, they faced many of the same challenges that can impact all business. Topics addressed will include eDiscovery, customer self-serve portals, enterprise search, records management, and collaboration.
The kick-off webinar for the series, 'Business Critical Metadata ', taking place on January 20th at 11:30am-12:15pm EST and co-hosted by AIIM, will discuss the state of the industry and highlight how organizations are addressing the challenges of metadata and unstructured content.
Details and registration links for all the webinars can be found here, and those interested are encouraged to check the status of the series as more clients continue to be featured.
"We are excited about our 2015 webinar series. We have taken a fresh, new approach to the 2015 series, focusing not on the traditional vendor product pitch but instead on our clients. The terms metadata, auto-classification, and taxonomies can make business professionals' eyes glaze over. The purpose of these webinars is to share how the technical functions translate into improved organizational performance," said Martin Garland, President of Concept Searching. "The most effective way we know of sharing that information is through our clients and what they have been able to accomplish. Our technologies solve application challenges regardless of industry, and the webinars offer a learning experience that is appropriate for both business and technical professionals. "
Concept Searching's third annual Microsoft and Metadata Survey is now available. Survey participants are eligible to enter a drawing to win a full conference pass to Microsoft Ignite, and free Bose SoundTrue™ audio headphones will be given away monthly.
Follow Concept Searching: http://www.twitter.com/conceptsearch
About Concept Searching
Concept Searching is the industry leader specializing in semantic metadata generation, auto-classification, and taxonomy management. Platform agnostic, Concept Searching also has a Microsoft Gold Application Development competency, and offers a complete suite of SharePoint and Office 365 solutions. The award winning technologies integrated with Concept Searching's Smart Content Framework™ encompass the entire portfolio of unstructured information assets in on-premise, cloud, or hybrid environments. Clients have deployed the intelligent metadata enabled solutions to improve search, records management, identification and protection of privacy data, migration, text analytics, eDiscovery, and enterprise social networking applications.
Concept Searching is headquartered in the US, with offices in the UK, Canada, and South Africa. For more information about Concept Searching's solutions and technologies visit http://www.conceptsearching.com.
All product and company names herein may be trademarks of their respective owners.