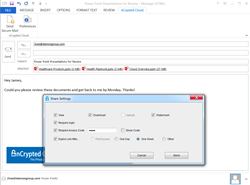 Our enterprise customers are telling us their employees want to communicate using email, but hate the limitations of files size attachments and lack of security.
Boston, Mass. (PRWEB) December 15, 2014
nCrypted Cloud today announced Infinite Mail for Dropbox for Business, a new module in its nCrypted Cloud extended collaboration platform. Infinite Mail alleviates security concerns that plague today's enterprise mail users, puts new collaboration and control in the hands of data owners, and delivers the convenience of Dropbox for Business in the context of a familiar email environment.
Available immediately for Windows Outlook, Mac Outlook and Mac Mail, supporting MS Exchange, Office 365 and Google Apps Email, Infinite Mail is one of a set of tools in nCrypted Cloud's Extended Collaboration Platform designed specifically to foster additional security when collaborating among business partners. To meet the needs of its large enterprise customers requesting the new functionality, nCrypted Cloud has launched Infinite Mail as an early access program for 20 of the Fortune 500 companies with 10,000 employees or more with plans to expand the program in early 2015.
To see a demo of nCrypted Cloud Infinite Mail, visit: https://www.encryptedcloud.com/infinite-mail/.
"Our enterprise customers are telling us their employees want to communicate using email, but hate the limitations of files size attachments and lack of security. Infinite Mail solves both problems, without compromising the sender or receiver end user experience, " said Nick Stamos, nCrypted Cloud founder and CEO. "Infinite Mail is the way to have both a familiar email environment and the convenience of Dropbox for Business."
When using Infinite Mail inside an enterprise, nCrypted Cloud removes attachments in an email and replaces them with secure links. The email recipient is allowed to access the attachments based on the properties set by the originator or controlled centrally by the IT administrator.
With Dropbox for Business, users can already add passwords and expirations to shared links. Infinite Mail now lets the sender change additional attributes after sending an email, including fully revoking access to the data. Added Stamos, "We chose Dropbox for Business as our platform for Infinite Mail because of its extensive and robust API. Now, with Dropbox for Business and Infinite Mail you can send email attachments of any size with an additional level of security and confidence."
"Dropbox for Business simplifies the way people and companies work, and a big part of that is a robust and secure API that enables integrations with the services our customers use to meet key business needs," said Rob Baesman, product manager, Dropbox for Business. "We're pleased that nCrypted Cloud has integrated with Dropbox for Business to provide a seamless email experience that brings additional value for our enterprise customers."
User-controlled Security
nCrypted Cloud is an extended collaboration platform and file sharing layer that natively integrates with the leading cloud storage services, while delivering the access controls, as well as auditing and compliance capabilities enterprises require to protect information in the cloud and across multi-cloud environments. It encrypts files before they are sent to the cloud, putting control in the hands of the data owner. nCrypted Cloud has launched a number of collaborative innovations such as Virtual Data Rooms and Trusted Sharing, allowing collaborative workgroups to be created quickly and securely, without IT involvement.
Infinite Mail for Dropbox for Business Value
With Infinite Mail, users gain a variety of new collaboration features and controls, including the ability to:

Dynamically watermark each recipient's email address and IP address onto the data, thus, holding each recipient accountable if the data ends up being distributed without authorization
Require log-in to control forwarding of email (link) to others, or require a quick access code be input by the recipient in order to open a secure link
Set expiration dates, determine a minimum message size needed to invoke Infinite Mail
Centralize policy control so Infinite Mail is automatically triggered when the user clicks send
Centrally manage access, expiration and security
Set read-only, download, print and upload controls
Revoke attachments, even after the file is sent
About nCrypted Cloud
nCrypted Cloud is an easy to use, flexible extended collaboration platform that seamlessly integrates with cloud storage services. Founded in 2012, the company's patented approach to secure collaboration provides the most secure platform for end-to-end encryption, respecting the privacy of end users, while meeting the data governance and enterprise control requirements of organizations. For sales or business inquiries, contact Tom Murphy at tom"at" ncryptedcloud.com.
Visit us at http://www.ncryptedcloud.com and follow us on twitter @ncryptedcloud.