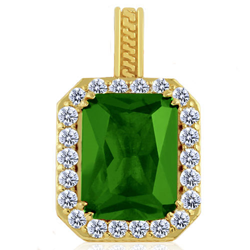 The Royal Collection is very meaningful for everyone at Avianne and Co, the collection is created and designed to make people feel powerful as powerful as Kings and Queens
New York, NY (PRWEB) December 15, 2014
Established in 1999, Avianne and Co has become one of the largest jewelry stores on the East Coast. After two decades in the industry, the master jewelers have designed and built an exquisite gallery of the finest diamond jewelry from their flagship store located in the heart of New York City. The design and production of all jewelry pieces are handled in-house from wax model making, molding to gold casting and diamond setting, to assure the finest quality products. With a well-established reputation for accepting any design challenges and custom jewelry commission, the team has become the exclusive jewelers to artists, athletes, and celebrity clientele worldwide.
For centuries, jewelry has been used as a reflection of wealth, power, class and status. Jewelry has manifested itself from a fashion statement to becoming a necessity. Jewelry is now worn to differentiate an individual from the rest. In 2009, when the United States was hit with the recession, jewelers saw this as an advantage to create religious jewelry. Several examples are, diamond rosaries, micro angel pendants and micro Jesus heads. This became popular as people needed something to hold on to throughout the dark times.
CEO at Avianne and Co, Joseph Aranbayev also known as Joe Avianne, stood back and saw the larger picture. He was positive that the people were strong and powerful enough to move forward from the recession. With this on his mind, alongside Birdman, Joe designed a passionate collection inspired by Royalty which is reflected by elegance, class and most importantly power.
"The Royal Collection is very meaningful to everyone at Avianne and Co, the collection is created and designed to make people feel powerful, as powerful as Kings and Queens" mentioned Joe Avianne.
The collection includes a variety of pendants, rings, bracelets and cuff links, all uni-sex and crafted in yellow solid gold. Designed with white round cut diamonds surrounding the center gemstone giving the piece that glorious royal feel. Among some of the most popular stones are Black Onyx, Red Ruby, Blue Sapphire and Yellow Citrine. In celebration with the upcoming holidays, the team at Avianne & Co are also presenting their loyal customers with an exclusive choice of Emerald Green.
The Royal Collection was first created exclusively for Birdman, co-founder of Cash Money Records. Then after 2 years of exclusivity the collection was released publicly and received many positive attention from A-list musicians such as Future, Rich Hommie Quan, Young Thug, Drake, Nengo Flow and just recently Justin Bieber.