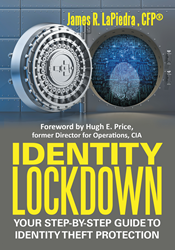 Today's reality: Prepare or repair. The choice is yours.
STATEN ISLAND, New York (PRWEB) December 15, 2014
Families who try to protect themselves from threats of burglaries or theft may assume that locking their doors at night is the best strategy or only option. Unfortunately, many modern thieves have stopped trying to crawl through windows and have started taking a more digital approach to steal your most valued asset: your identity.
The rapid development of modern technology has a dark secret. The number one crime in America is no longer drug trafficking, but identity theft. The damage that can be done from this attack can lead to financial ruin and even cause mistaken identities in medical situations with devastating results. Worse yet, children are increasingly becoming targets.
James LaPiedra, founder of ID360°, offers a step-by-step guide to protect individuals and their families in his book, "Identity Lockdown." The book pairs real-life situations and stories with its researched statistics and facts to help the reader easily understand the necessary precautions. The readers also learn how to reduce their risk, how to detect fraudulent activity early on and how to recover their identity if they were to fall victim.
"Today's reality: prepare or repair. The choice is yours," LaPiedra said.
Aside from his current work with ID360°, James has served over 20 years as a highly decorated veteran of the New York City Police Department retiring as a deputy inspector.
"Given that over the past year there have been over one billion records stolen containing personal identifiable information, it's not a matter of 'if' you will become an identity theft victim, it's a matter of 'when'." LaPiedra said.
For more information, visit http://yourid360.com/
Identity Lockdown: Your Step-By-Step Guide To Identity Theft Protection By James LaPiedra
ISBN: 978-1-4834-1627-4
E-book ISBN: 978-1-4834-1627-4
Available in softcover and e-book
Available on Amazon, Barnes & Noble and Lulu
About the author
James LaPiedra is the president and CEO of ID360°, a premier identity theft recovery firm. He is a Certified Identity Theft Risk Management Specialist as well as a Certified Financial PlannerTM professional.
###
**FOR IMMEDIATE RELEASE**
For review copies or interview requests, contact: Jake Doll
317.602.7137
jdoll(at)bohlsengroup(dot)com