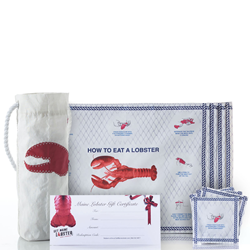 Sea Bags, designers and manufacturers of handmade items from recycled sails, has a little something for everyone on your List.
Portland, Maine (PRWEB) December 13, 2014
For all those that haven't started their shopping yet, or still looking for last minute stocking stuffers, it's not too late! Sea Bags, designers and manufacturers of handmade items from recycled sails, has just what they're looking for.
For Lobster Lovers:
Sea Bags' new Lobster Lover's Gift Set, which features four (4) placemats, four (4) coasters, a Lobster Claw Wine Bag and a Get Maine Lobster gift certificate. The Lobster House Gift Set lays the foundation for a complete lobster dinner. Set the table with placemats and coasters featuring the anatomy of how to eat a Maine lobster.
A decorative take on the traditional tabletop placemat, How To Eat A Lobster Placemats feature a guide on how to eat a Maine lobster. Made from recycled sails, classic nautical designs are zig stitched to each placemat making them one-of-a-kind and an unforgettable piece of your tabletop decor.
Choose $100 or $200 gift certificate from Get Maine Lobster and get the feast delivered to your door.
For Her:
If she doesn't already have a Sea Bag, she'll love one. If she has several, she'll want more! Sea Bags' Fall/Holiday 2014 line debuts several new and exciting designs, including:

Orange or Blue Starfish tote, $150
Latitude and Longitude tote at $170, wine bag at $35 and wristlet at $30
Black on Black Anchor tote starting at $175 and wristlet at $30
Fishscale tote at $150, bullet bag at $125, wine bag at $35 and wristlet at $30
The Tartan Collection (Macleod, Wallace and Black Watch) featuring large totes starting at $185, shave kits at $40 and wristlets at $30
North Star tote at $175, wine bag at $35 and wristlet at $30
Trapper Stripe tote at $165
Sea Bags' Core collection of favorites and best sellers, such as the Navy Anchor, Red Star or Vintage totes are still available, with some small bags starting at $110.
For Him:
Sea Bags has just introduced an exciting new collection - Katahdin Camo- ideal for the action man in the house. Inspired by the Katahdin Woods in northern Maine, the collection is made using recycled sails and includes a tote with a zipper, leather handles and messenger strap at $195; a duffel bag with leather handles and strap ($225); a bag for a MacBook ($85); and a shaving kit ($40).
For Stocking Stuffers:
Knots, Stars, Ships and Paws, Anchors, Claws, Tails and Moons, Sailboats, Snowflakes, and Candy Cane…this year's line-up of Sea Bags Holiday Stockings has them all at $50 per stocking.
For Good Friends:
Guests will thrill their hosts this Holiday Season, by bringing wine or a gift in a one-of-a-kind Wine Bag or Bucket. They can choose from a huge selection of designs such as Coordinates, Nautical Charts, Fishscale, North Star, Stars and Ships Wheel, Anchor Chain, Knots, Tossed Sailboats, Anchor, Snowflake and Candy Cane. Wine bags are available at $35 and Buckets at $40.
For Furry Friends:
Sea Bags has not forgotten Fido! New for this season are navy and white collars at $25; dog placemats at starting at $12.50; and packable water bowls.
All Sea Bags products are available online at http://www.seabags.com. Shoppers can also visit Sea Bags at one of its three retails locations in Portland, Maine, Freeport, Maine and Cape May, New Jersey. Visitors can see bags being made by Sea Bags' talented seamstresses at Sea Bags headquarters at 25 Custom House Wharf in Portland. The store is open from 8:30 a.m. to 5:30 p.m. Monday through Friday, 9 a.m. to 5 p.m. on Saturdays, and 11 a.m. to 3 p.m. on Sunday. Sea Bags' Freeport store at 6 Bow Street is open 10 a.m. to 6 p.m., seven days a week, while the Cape May store on the Washington Street Mall is open from 10 a.m. to 6 p.m. seven days a week.
About Sea Bags:
Founded in 1999, Sea Bags started by making fun, functional and stylish totes from reclaimed sailcloth in the historic Old Port district of Portland, Maine. Today, the company makes a diverse line of totes, bags, and home goods, all featuring material from sails that were once actively used. Signs of hard sailing can be seen in every Sea Bags creation, making them as individual and unique as their owner. To learn more about Sea Bags and the stories their sails tell, go to http://www.seabags.com, visit them at 25 Custom House Wharf in Portland, Maine or at their retail stores in Freeport, Maine and Cape May, New Jersey.