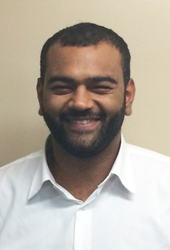 "My objective in America is to bridge the cultural gap with my Arab heritage," said Mr. Fakih.
Tustin, CA (PRWEB) December 11, 2014
Sam Fakih, with family roots in Lebanon and fully fluent in Arabic and Romanian, has been added to the Absolute Exhibits sales team. Over the past decade Absolute Exhibits, a custom exhibit builder, has added a noteworthy number of native speaking recruits to the sales team. "It has been my experience that clients that come to USA trade shows with the inconceivable amount of paperwork, union jurisdictions, and rules and regulations need more than a trade show exhibit builder that just rents them exhibition materials," surmised Jan Koren, AE President. Absolute Exhibits has a large foreign language speaking clientele that speak German, Spanish, Portuguese (Brazil), Arabic, Japanese, Vietnamese, French, and Italian. With the addition of Mr. Fakih to the sales team and his background having lived in a number of foreign cities, another cultural breach has been filled.
Sam grew up outside of the United States, after his birth in California; however, he spoke Arabic as his first language for many years. He has lived in the Republic of the Congo, Sierra Leone, Lebanon, and Romania. At sixteen he went to college preparatory boarding school in London and then onto Kingston University where he graduated with a bachelor's degree in business management. While attending university he also worked in sales and marketing, mainly in the pharmaceutical industry.
"My objective in America is to bridge the cultural gap with my Arab heritage," said Mr. Fakih. I want to give Arab companies the right tools to work within the American marketplace by helping them to understand the American way of doing business. At the same time I want to take American companies to Middle Eastern trade fairs and help them feel comfortable in moving into those markets using Absolute Exhibits' partnerships with Middle Eastern exhibit houses."
We welcome Sam Fakih and his youthful exuberance to Absolute Exhibits.
About Absolute Exhibits
Absolute Exhibits, established in 2000, rents and sells large custom exhibits at over 300 shows in the USA and in countries around the world. Absolute Exhibits is dedicated to providing distinctive marketing settings as well as pre-and-post show and event marketing and support services for our clients. At Absolute Exhibits every aspect of the exhibition project is handled using in-house resources and every question is answered in-house, as well. Absolute Exhibits is a true one-source exhibit house.