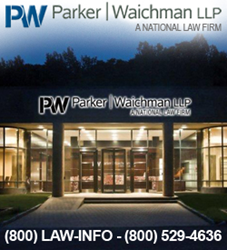 "Patients and physicians rely on safe and effective medical treatments," says Gary Falkowitz, Managing Attorney at Parker Waichman LLP. "Patients and doctors need to know whether, and to what extent, certain types of treatments may be dangerous."
Port Washington, New York (PRWEB) December 12, 2014
Parker Waichman LLP, a national law firm committed to fighting for victims of defective drugs and medical devices comments on recent actions in a multidistrict litigation (MDL) brought over the blood thinner, Xarelto. The case is In Re: Xarelto Products Liability Litigation, MDL No. 2592, under consideration by the Judicial Panel on Multidistrict Litigation (JPML).
The federal judicial panel has been asked to centralize the Xarelto lawsuits in the U.S. District Court, Southern District of Illinois. According to the plaintiffs' motion to the U.S. JPML, all of the complaints over Xarelto bear similar facts or involve allegations that similarly claim that patients taking Xarelto for stroke and blood clot prevention have suffered from bleeding that could not be controlled, or death. (In Re: Xarelto Products Liability Litigation, MDL No. 2592)
Allegations also include that Bayer AG and Johnson & Johnson's Janssen Pharmaceuticals Inc. division, which jointly market Xarelto, neglected to advise physicians and patients that no antidote exists to reverse serious Xarelto bleeding events, and what plaintiffs described as "aggressive" marketing to drive Xarelto sales. Increased sales added to reports received by the FDA of serious Xarelto events and, according to the plaintiffs' motion, some 1,080 serious Xarelto events—including 65 deaths—were reported as of June 30, 2012. By year-end 2012, a total of 2,081 new serious adverse Xarelto events were reported to the FDA; 151 resulted in fatalities. According to the court filing, 56 deaths were tied to warfarin. For their parts, the drug makers filed a response seeking a rejection of the plaintiffs' request for federal consolidation. (In Re: Xarelto Products Liability Litigation, MDL No. 2592)
"Increased bleeding risks may outweigh benefits in patients diagnosed with Acute Coronary Syndrome (ACS)," said Gary Falkowitz, Managing Attorney for Parker Waichman LLP, noting that "Patients and physicians rely on safe and effective medical treatments. Patients and doctors need to know whether, and to what extent, certain types of treatments may be dangerous."
Patients who are injured following the use of Xarelto may be entitled to compensation, Parker Waichman LLP indicates.
"Our experience with the victims and loved ones of Xarelto bleeds reveals that, although all blood thinners carry a risk of bleeding problems, Xarelto and other members of this newer generation of anticoagulants have no approved antidote to reverse bleeding effects, which may become dangerous," said Mr. Falkowitz.
For example the blood thinning effects of warfarin, unlike Xarelto, may be controlled with an antidote, according to an April 2012 report by MedpageToday. When no antidote is available, physicians are unable to stop bleeding problems, potentially increasing risks for serious injuries, even death, according to Parker Waichman LLP.
Parker Waichman LLP is offering free legal consultations to victims of Xarelto bleeding side effects. If you or a loved one took Xarelto and experienced a life-threatening bleeding event, please contact the firm by visiting our Xarelto Side Effects page at http://www.yourlawyer.com. Free case evaluations are also available by calling 1 800 LAW INFO (1-800-529-4636).