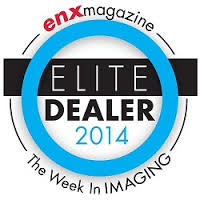 "We are proud to again be recognized for our leadership in the industry " said RJ Young's President and CEO, Chip Crunk
Nashville, TN (PRWEB) December 12, 2014
RJ Young, the Southeast's largest independent office technology dealer, has been named one of the nation's Elite Dealers by The Week in Imaging, a leading source for imaging industry news and information. The annual award is presented to top office technology dealers in the nation based upon criteria including growth, innovation and strategy.
"These dealers represent the standouts from the independent dealer community," according to Scott Cullen, publisher and editor of ENX Magazine and The Week in Imaging.
RJ Young has realized growth across all areas of the company from IT services, document management, managed print services, production printing equipment and multifunctional printing devices.
"We are proud to again be recognized for our leadership in the industry and look forward to continuing to help customers achieve productivity in their businesses with the latest in imaging technology, IT services and document solutions," said RJ Young's President and CEO, Chip Crunk.
The Week in Imaging (TWII) is the ultimate source for information, commentary, and news on the imaging and office technology industries with new content published weekly. TWII was founded by publisher and editor, Scott Cullen, the imaging and office technology industry's most prolific journalist.
About RJ Young
RJ Young is the largest independent office equipment dealer in the Southeast, specializing in document management solutions, managed print services, IT services, office imaging and 3D printing equipment. Headquartered in Nashville, Tennessee, RJ Young has been in business for nearly 60 years and has over 500 employees in 21 sales and service locations across seven states. Under the corporate tagline "Your productivity is our mission," RJ Young helps modern professionals become more successful in their businesses with solutions to securely manage paper and digital information, maintain vital information technology systems and empower businesses with leading printing technologies. For further information, please visit http://www.rjyoung.com.