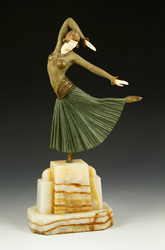 Beverly, Massachusetts (PRWEB) December 14, 2014
Kaminski Auctions' Annual New Year's auction scheduled for Sunday, December, 28th at 10:00am is a wonderful mix of fine art, sculpture, period furniture, jewelry, important Asian items, carpets and decorative art.
A sculpture by the Romanian Art Deco artist Demetre Chiparus (1886-1947) titled "Ayouta," is one of the featured items in the sale. Chiparus, who lived and worked in Paris and exhibited at the 1942 Paris Salon in his later years, was well known for his sculptures of bronze and ivory using a technique known as chryselephantine. This technique resulted in highly detailed and decorative pieces primarily of ballet dancers appearing as long, slender and elegant figures. "Ayouta" is the figure of a stylized dancer on a marble base and is estimated at $14,000-$18,000. Another sculpture in the sale sure to garner much attention is a whimsical bronze sculpture of a dachshund playfully lying on its back, by Jenni Doussin-Ott.
Two important paintings in the sale are from Belgian artists. An oil on panel painting by Florent Willems (1823-1905), in a hand painted frame, depicts an elegant interior scene with a woman looking at her reflection in a mirror. From a Florida estate, the work is estimated at $15,000-$20,000. A large pastel of a nude by Firmin Baes (Belgian, 1874-1943), valued at $14,000-$18,000, is from the same Florida estate.
There are two works by the popular American artist Jane Petersen (1876-1965): "Ossining," a gouache on paper work depicting a view of a house in the Westchester County town, signed and dated 1920, and a wonderful oil on canvas painting of a serene pond with trees and mountains in the distance. They are valued at $4000-$6000 and $2000-$4000 respectively.
From an Andover, Massachusetts estate comes a Eugene Boudin (French, 1827-1898) painting of a beautiful winter coastal scene with boats, possibly set in Beaulieu, France. The composition is oil on wood panel, signed by the artist lower left and valued at $4,000-$8,000. A lot of two engaging companion paintings of servants by M. Carmine, both oil on canvas, are signed and dated 1873 and estimated at $12,000-$15,000.
Important Asian art in the sale includes an oil on canvas by the Vietnamese artist Le Pho (1907-2001), titled "Roses Tremieres," and valued at $7,000-$10,000, as well as a pair of rare antique Chinese jade horses on rosewood bases, standing 8 3/4" high and valued at $16,000-$18,000.
The auction house has sold many important pieces of jewelry in the past few months and this auction has a wonderful selection as well. An outstanding piece to be offered is a 3.02 carat natural ruby and diamond ring set in platinum with 10 near colorless round brilliant diamonds, to include a GIA certificate. The ring is from a New York collection and is valued at $8,000-$10,000. There is also a diamond eternity band with 16 diamonds, weighing approximately 6 carats and valued at $6,500-$7,500, as well an exquisite 18 carat yellow gold, diamond and ruby bracelet with round brilliant diamonds and emerald cut rubies, approximately 31 grams troy weight and valued at $3,000-$4,000.
Rounding out the sale is a selection of Persian carpets and a large collection of period English and American mahogany furniture from a single owner.
Preview for the sale takes place at the Kaminski Auction gallery, 117 Elliott Street Rt.62, Beverly, Massachusetts, Tuesday, December 23rd and Friday - Saturday, December 26th - 27th, 10:00 AM – 5:00PM and on Sunday, December, 28th the day of sale beginning at 8AM. For more information please go to http://www.kaminskiauctions.com, and register to bid at KaminskiLIVE.