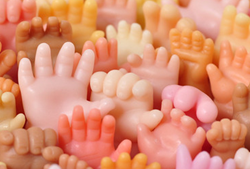 Chicago, IL (PRWEB) December 12, 2014
Just in time for the office holiday party, Messina Group is releasing its Coworker Gift Guide. All gift ideas are hand-crafted – and memorable.
Photos and product links available at: http://messinagroupinc.com/coworker-gift-guide/

Featuring retro images of the Mad Men (and women) of their time, these face-cover magnets are perfect for filing cabinets and the office refrigerator – and for the guy that has desktop photos of everyone he's ever met. (Imaginary Animal, $5 – Go for the mystery three pack.)
Every financial planner says that bringing a packed lunch to work will save big time money. Help a coworker realize that dream vacation to Paris. Each part of the Eiffel Tower is drawn, labeled and printed onto an eco-friendly, durable, practical lunch bag. (Girls Can Tell, $16)
Yellow note pads are so yesterday. Give meetings an element of fun with these creative journals. Once favorite books, the covers have been re-purposed and spiral bound to notepads.Choose from Dr. Seuss, Nancy Drew and Little Golden Books covers. (Ex Libris Anonymous, $14)
We can all use an afternoon tea break. This tea collection includes choose-your-mood flavors such as "Grumpy Dinosaur" and "Sippin' Pretty." (T-We Tea, $5)
Fluorescent lighting helps things grow – really. Give coworkers a jumpstart on their next salad with this on-desk garden planter. (Modern Sprout Planter, $20)
When a lunch buddy walks into a sushi restaurant with personal chopsticks, people know that she means business. These stylish chopsticks are sure to set a coworker's heart a-flutter. (Hank by Henry, $34)
Does the office use the industrial dry-your-hands-before-you-finish-washing soap? These soaps are fun and functional – and a gentle reminder for everyone to stop the spread of all-things germy. (Imaginary Animal, $16)
Messina Group is a national staffing and consulting firm located in Chicago, Ill. Since 1971, Messina Group has consistently placed skilled talent in four signature areas – architecture and engineering, laboratory, digital marketing/IT and finance. More information about Messina Group can be found at MessinaGroupInc.com or by calling (847) 825-8000.