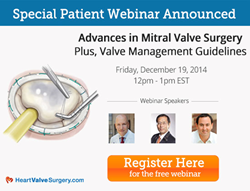 This webinar provides a wonderful opportunity to connect in real-time with patients, to provide our most recent research, answer questions, and share our success stories with the HeartValveSurgery.com patient community," stated Dr. David Adams
New York, New York (PRWEB) December 11, 2014
HeartValveSurgery.com, the largest educational resource and online community of patients with heart valve disease, announced today its new special one-hour webinar, "Advances in Mitral Valve Surgery and Valve Management Guidelines," for December 19 at 12:00pm (EST). Patients can register for this free event by clicking here.
"I strongly encourage all patients with mitral valve disease to register for this very important webinar with Dr. David Adams and Dr. Rick Nishimura," stated Adam Pick, founder of HeartValveSurgery.com. "This is an extraordinary opportunity for patients to learn from two heart valve gurus."
David Adams, MD, is Cardiac Surgeon-in-Chief for the Mount Sinai Health System and the Program Director of The Mount Sinai Hospital's Mitral Valve Repair Reference Center, which has set a national benchmark with > 99% degenerative mitral valve repair rates. The Mount Sinai Hospital, is one of the top 10 hospitals in the nation for cardiology and heart surgery, according to the U.S. News and World Report.
Rick Nishimura, MD, is a Professor of Medicine at the Mayo Clinic. A cardiologist, Dr. Nishimura is a lead author of the 2014 AHA/ACC Guidelines for the Management of Patients with Valvular Heart Disease.
"It is critical that patients with mitral valve disease are educated about their heart condition, the latest valve management guidelines, and their treatment options," stated Dr. Adams. "This webinar provides a wonderful opportunity to connect in real-time with patients, to provide our most recent research, answer questions, and share our success stories with the HeartValveSurgery.com patient community."
To register for this free event, click here.
About HeartValveSurgery.com
Founded in 2006, HeartValveSurgery.com (HVS) is the world's largest educational resource and online community of patients with heart valve disease. HVS provides patients, their families and their friends a trusted platform for each step in the surgical cycle -- from diagnosis to recovery.
The HeartValveSurgery.com platform includes a social network, a surgeon finder, a valve clinic directory, a microsite application, an educational video library, a learning center, a book and a blog. During 2013, HeartValveSurgery.com received 1 million visits.
Contact information:
Contact HeartValveSurgery.com:
Robyn Podell, Director of Communications
(310) 721-0587
robyn(at)heartvalvesurgery(dot)com