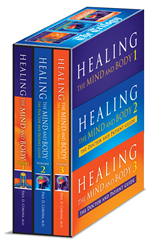 From the flu to depression, I can treat my patients for both mind and body illnesses," adds Dr. Corona. "And now I'd like to share the secrets of my success in this easy-to-read yet comprehensive book series.
(PRWEB) December 12, 2014
Dr. Paul Corona of Laguna Niguel, CA announced today the release of his three-book series, entitled "Healing the Mind and Body: The Doctor and Patient Guide."
The self-published trilogy, edited by Pastor Chuck Smith, Jr., explains how the mind and body cannot be separated, and describes how he has helped literally tens of thousands of patients achieve the happiness they deserve. In particular, it focuses on the use of psychotropic drugs which allow the body to do what it cannot do on its own by allowing people to balance their own neurochemicals.
"Neurochemical imbalances clutter the path to happiness for many people, but they no longer have to," explains Dr. Corona. "In these books, readers will come to understand why psychotropic medications are the most 'holistic' and preventative approach to healing the mind and body. This is a guide to help readers obtain optimal mind-body harmony to forever improve the quality of their lives."
Book 1: The Truth about Psychotropic Medications
In Book 1, readers will unlock the secret truths about the reality of the mind-body connection. The book explains why psychotropic medications are widely misunderstood in our society and explodes the countless myths surrounding its usage. Furthermore, the book explains why they are the best choice for balancing neurochemicals in order to prevent mental and physical problems.
Book 2: Stress, Mood Disorders, Addiction
In Book 2, readers will learn the mysterious ways that the nervous system affects not only mood and feeling, but also how our thoughts can produce real physical disorders and illnesses as well. It also explores the challenges of managing stress, among the top three causes of death in the world, and how today's medications can help us cope with stress. In addition, the book covers the importance of a healthy lifestyle, including regular exercise, a balanced diet and relaxation techniques such as yoga and meditation.
Finally, it addresses how mood disorders and addiction form a vicious cycle in which the one constantly reinforces the other, and the means that the family physician now has on hand to break this cycle by treating both mood and addiction.
Book 3: A Reference Guide to Psychotropic Medications
In Book 3, readers will discover the critical importance of collecting a comprehensive record of the patient's family history, personal history and medical history because these factors have everything to do with the development, diagnosis and effective treatment of mood disorders. The book also provides a complete and up-to-date reference guide to psychotropic meditations including a useful description of the pros and cons of various drugs. In addition, the book provides the keys to choosing the best medication as soon as possible as well as knowing when to increase or decrease the dosage or add an augmenting agent.
"As a family physician, I've had years of experience treating patients with all kinds of mood disorders and I can tell you we don't live in "one-pill-suits-all-kinds of world," says Dr. Corona, who is among the top prescribers of psychotropic medications in the United States. "This book series is designed to aid patients and doctors in developing a personalized and customized diagnosis for each case to ensure optimal health and happiness."
Dr. Corona has more than 22 years as a family physician and is at the forefront of a dynamic new direction for the treatment of mood disorders that involves combining medications to achieve the ultimate balance between mind and body. A graduate of USC and New York Medical College, Dr. Corona has lectured doctors for over 20 years and has traveled around the country speaking to doctors about the subject. His story is very unique, and in fact, he's in a category all his own as a family doctor prescribing psychotropic medications full-time, which is usually the purview of psychiatrists. In addition, Dr. Corona's practice is unique because he treats the medical as well as the mood/psychological problems, what he refers to as mind-body medicine, which results in the most complete and satisfying results.
"From the flu to depression, I can treat my patients for both mind and body illnesses," adds Dr. Corona. "And now I'd like to share the secrets of my success in this easy-to-read yet comprehensive book series."
###