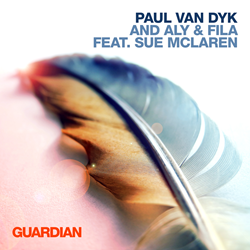 New York, NY (PRWEB) December 12, 2014
In a first time production collaboration, Germany's Paul van Dyk teams up with Egypt's Aly & Fila to bring forth a massively popular new single titled, "Guardian," featuring the vocals of Sue McLaren. The single will be released by Ultra Music/NewState and it will be available on Beatport on December 12th, 2014, and on iTunes on December 30th, 2014.
For months, electronic dance music (EDM) fans' level of anticipation has steadily grown for van Dyk's Politics of Dancing 3 release, a clubland staple following the success of his previous two Politics of Dancing compilations.
On "Guardian," Sue McLaren's sweetly sung vocals contrast with the bittersweet nature of her meditative lyrics. At its production core, Paul van Dyk and Aly & Fila fuse the track together with a harmonic audio storm of pads, chords and synths. Cumulatively, the track's pacific undertones and vocal enrichment take club goers and music lovers of all types to sonic dreamscapes from which they may never wish to return.
For more information, contact EMILY TAN Media Relations (U.S./North America) at +1(917) 318-3758 and EmilyEmilyTan(at)aol(dot)com and visit http://www.paulvandyk.com and http://www.alyandfila.com. Follow EMILY TAN Media Relations on Twitter @EmilyEmilyTan.
# # #