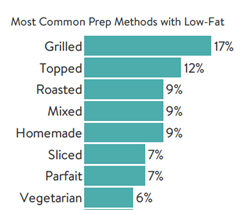 When the term "low-fat" is combined with a preparation method in a menu description, its most often "grilled".
Chicago, IL (PRWEB) December 16, 2014
Healthy offerings at restaurants are top of mind for many consumers, as new crops of health conscious quick-serve and fast casual restaurants launch and grow. From Freshii and Protein Bar and LYFE Kitchen, it seems as though you can't go a month without hearing about a new chain opening that claims to offer all the convenience of fast food without the guilt. In honor of this fast growing trend, Food Genius™ has released their latest Industry Report: Healthy and the "Health Halo": Menu Trends and Insights, detailing comprehensive data on what terms, attributes and language is used on menus to denote "health" in the eyes of consumers across the country. According to Healthy and the Health Halo, the term "healthy" is only one of the many terms being employed by these creative menu professionals. Other terms of note are "low fat", "natural", and "organic". The perceived healthfulness of these and other terms benefit from the "health halo" in consumers minds.
With the growth of the health quick serve segment, Food Genius has some insight on the top stats related to these terms, for operators and manufacturers alike.
Key insights from Food Genius' Report:

The term "gluten free" has grown 5 percentage points in the past 12 months and can now be found at 9% of locations.
The average price of a menu item containing the term "organic" is only $9.41.
When the term "low fat" is combined with a preparation method in a menu description, the #1 prep method is "grilled".
Healthy and the Health Halo: Menu Trends and Insights highlights data sourced from Q3'14 Food Genius Reports, the industry leading menu analytics dashboard provided by Food Genius. The Industry Report can be downloaded on Food Genius' website, along with many other industry research reports and assets.
For more information about Healthy and the Health Halo: Menu Trends and Insights, please contact Eli Rosenberg, eli(at)getfoodgenius(dot)com or at (312) 229-0168. Ongoing insights from the Food Genius team will be published on the Food Genius blog http://blog.getfoodgenius.com.
About Food Genius
Food Genius™ is a leading technology and solutions provider delivering actionable insights for sales and marketing enablement to the worlds largest foodservice companies. Food Genius solutions and analysis is derived through our proprietary technology and data-based approach to the foodservice industry. Food Genius serves nationally recognized companies, including Arby's, Applebee's, Coca-Cola, Unilever, Kraft and US Foods.
Food Genius is a proud recipient of the "Up-and-Comer" Chicago Innovations Award and was named to Entrepreneur Magazine's list of 100 Brilliant Companies in 2013. Food Genius' innovative design and intuitive interface allows for a user-friendly data insights solution that generates granular data and insights, tracks trends, develops concepts and drives growth. To learn more, visit getfoodgenius.com.