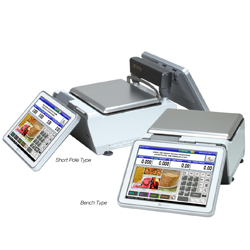 Rice Lake, Wis (PRWEB) December 16, 2014
Compact, vibrant and multi-functional, the Uni-9 Series PC scale delivers the gourmet experience in retail weighing. Fit for virtually any size counter, the PC-based touchscreen scale is available with a seven- or 12-inch LED backlit customer display. Take in-store marketing and cross merchandising to a new level with vivid imagery, video and sound capabilities. Customers can now have access to an informative display with recipes, new product specials or video tutorials.
Comprehensive networking via LAN or WLAN allows for remote scale management and updates. A frequent-seller feature determines popular items and strategically places them on the user's screen for added convenience and efficiency. The universal interface is easy to navigate from any department and the multiple-configuration liner-less printer cassettes use no backing paper, keeping operations green and running smoothly. In addition, more behind-the-counter functions such as recipe lookup, order entry and training videos through in-store intranet access reduce the need for additional PCs in all departments.
The Uni-9 is available in multiple configurations to best suit any store needs, including a short pole and pole model, remote platter, bench scale, elevated display and hanging scale, self-service, bakery printer and modular models.
For more information, visit http://www.ricelakeretail.com/Uni9.
Rice Lake Weighing Systems is an international leader in the manufacture and distribution of weight-related products and process-control equipment. Within this ISO 9001 registered company, progressive new technologies merge with the wisdom of industry experience and create the future of weighing through cutting-edge research and design.