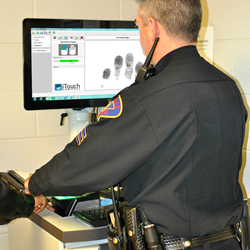 The DC Book mugshot system conversion was a success.
Romeoville, IL (PRWEB) December 15, 2014
Deputy Chief Ken Kroll of the Romeoville Police needed a replacement for the department's old livescan fingerprint and DC Book mugshot solutions. "What was key was finding a company that could convert nine years of booking data. When iTouch said that they could do it in one system that was a big selling point for us." Like many departments across the country, the Romeoville police had previously used two separate systems for processing criminals, one for collecting fingerprints, and a second for capturing mugshots. iTouch Biometrics was able to provide them all of the tools they required for both in one easy to use system. "That's one less vendor, one less contract, one less support group," Ken explained. The DC Book mugshot system conversion was a success.
iTouch Biometrics' solutions team was able to complete a DC Book conversion, retrieving over 15,000 mug shots and booking records from the department's old DC Book system. Those old records are now stored in the new Accurate-ID software solution.
Romeoville police now have access to over nine years of historical booking data at their fingertips along with their new booking records in one sleek cabinet. iTouch Biometrics uses Active Directory to allow users remote access to booking records from their desktops with varying levels of permissions. Ken demonstrated how easy it is now to search these records from his office. "If the Bolingbrook police think that one of Romeoville's prior arrests was involved in a crime, I can search the records, point, click and send over a suspects mug shot in an email from my computer." This gives a requesting department an image of the suspect to use in a lineup. Romeoville's police and iTouch Biometrics are making it easier for law enforcement to share information faster and more efficiently, making communities safer for everyone. Romeoville police can now search historical booking and demographic information, share images with other departments as well as perform digital lineups all from the ease of their desks. "Their search parameters are phenomenal!" said Deptuy Chief Kroll, talking about iTouch's proprietary software. Since iTouch Biometrics is a software development company at its core, the product is extremely dynamic and can be tailored to meet the needs of any agency. In Romeoville local ordinance offenders may have their demographics and mugshots taken but the police may choose not to collect fingerprints. iTouch provisioned a unique type of transaction within their software to accommodate such a record creating a customized solution for the Romeoville police.
The Romeoville police department has also adopted a desktop model of the iTouch Biometrics Accurate-ID package. The department has a convenient fingerprinting area in the station's lobby for citizens who need their fingerprints submitted for things like concealed carry applications or professions such as registered nurses and healthcare workers. An additional benefit to Romeoville taxpayers is that all of this was done at a considerable cost savings. iTouch Biometrics completed the upgrade on time and more than $40,000 below the next closest bidder for the project.
iTouch Biometrics' Accurate-ID solution is more than just a digital capture and collection system. iTouch offers complete booking systems capable of collecting livescan fingerprints, performing digital lineups, photographing mug shots, profiles, scars, and tattoos. iTouch Biometrics has answered the call for departments looking for a truly robust Livescan solution.
For more information about iTouch Biometrics or their cutting edge solutions for the law enforcement community, visit their website at http://www.iTouchBiometrics.com.