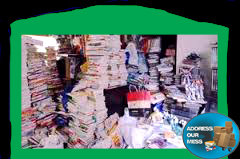 Animal hoarding is a serious problem especially in New York
Baltimore, MD (PRWEB) December 12, 2014
When dealing with the eviction process people do not realize it is not just caused by the inability to pay rent, but also if a person breaks basic tenants of a lease. In the lease it often specifies that animals not or only a certain amount of animals are allowed in the apartment. Or that the tenant will not proceed in unlawful or dangerous activities that could possibly harm other tenants in the building. This is where a hoarder can face a problem with hoarding eviction.
Certain items that the hoarder might collect could lead to the endangerment of other people in the building. These items might include paper, food, or other biological material that could degenerate over time. This rot or decay can lead to smells or a potentially biologically hazardous situation, because the bacteria that is rotting the items could potentially be harmful to humans. Also, hoarders tend to hoard clothing as well, which could easily hide potentially harmful insects or small rodents that would be able to access the neighbors of the apartment. This situation can lead to the concern of a possible animal hoarding situation to occur.
Animal hoarding is a serious problem especially in New York, and specifically New York City. Many apartment building landlords do not allow pets or any type of animal in their building for liability reasons because of allergies or potential biting incidents. Also, different animals could damage different parts of the apartment for vary affects. For example cat urine can stay in hardwood floors and the acidity of the urine can ruin them, which would be taken out of the security deposit. Also, the endangerment of other individuals due to the biting and allergies would create undue liabilities on the landlord.
When dealing the hoarder in the apartment building a landlord needs to be careful, because the eviction process in many states is a very precarious process. Often evictions can take long periods of time, therefore it would be more beneficial for a landlord to help in the removal of the problems that are damaging or harming the property. That is when a specialized hoarding cleanup company should be called into help solve the problem of hoarding and severe clutter.
An example of a company that can help a hoarder or landlord avoid a possible eviction proceeding is Address Our Mess. This company has the utmost discretion when it is dealing with a hoarding scenario and with compassionate workers and case managers involved they can help clean out the property in order to have the hoarder avoid possible eviction. All this factors into why a hoarder may be evicted, but it would be more financially prudent way of dealing with hoarding evictions.