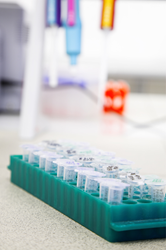 In fecal matter, Bacteroides is 10,000 times more prevalent than E. coli.
Toronto, Ontario (PRWEB) December 15, 2014
Bacteroides is becoming the indicator of choice for assessing sewage contamination indoors. Not only is it much more prevalent than coliforms, it cannot reproduce in the presence of oxygen so will not replicate in the environment.
Key Benefits of the new Bacteroides Sewage Screen:

Definitive results for fecal contamination
Eliminates false positives from coliforms naturally occurring in the environment
Higher Specificity and Sensitivity
Maintain the same sampling method with results as quick as 24hrs
Unlike the current standard test, PCR analysis eliminates interpretation of visual observations
Bacteroides is a genus of gram-negative, obligate anaerobes that live symbiotically within mammalian gastrointestinal tracts. They are present in huge quantities in human feces and do not persist for very long outside of the gut. Their relationship with the guts of different mammalian hosts are so well defined, you can determine the type of mammalian feces by the species of Bacteroides present.
About Sporometrics
Sporometrics Inc. is a privately owned Canadian company that provides contract research and microbiological testing services for environmental samples. Since its inception in 1993, Sporometrics has been an industry leader in basic and applied scientific research on biomedical, industrial and environmental microbes.