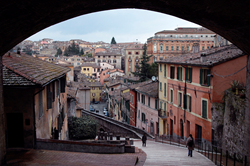 People love our villa, partly because they can walk along the Tiber River to downtown Umbertide. One participant said that by making the daily trek to town for a cappuccino she felt like a local.
SAINT HELENA, California (PRWEB) January 06, 2015
January might seem premature to register for a September tour, but now is a good time. "For people interested in taking our tour," advised Murray Rockowitz, photography teacher for To Umbria, "the earlier you sign up, the better." To Umbria's "Eat, Drink & Make Photos" tour runs next September with a maximum of twelve participants. "Our intimate tours allow me to give each person at least one half-hour consultation, plus lots of advice while we travel around making photos."
Suzanne Carreiro, owner of "To Umbria," asked Rockowitz to collaborate with her to create a unique tour that combines food, wine, and photography. "We are pretty sure there isn't another tour like it in Umbria," Rockowitz said. "Aside from the unusual focus, the tour has two leaders—me and Suzanne, who is author of "The Dog Who Ate the Truffle: A Memoir of Stories and Recipes from Umbria."
Rockowitz and Carreiro wanted an itinerary with broad appeal. For example, if the husband is a photography enthusiast, and his wife is excited about cuisine and culture, they can happily tour together on To Umbria's tour. Carreiro lived in Umbria for a year and a half to research her cookbook, so she brings a serious food, wine, and cultural slant to the tour. Rockowitz and Carreiro are a dynamic duo for those interested in photography, but who want to learn about the country they are visiting. "An exciting cultural component of the tour is attending two local festivals where we literally rub elbows with Umbrians." The street scenes, where locals perform in historic costumes, offer a rare chance to practice street photography and portraiture with a town of willing subjects.
The ancient villa Suzanne chose in the Upper Tiber River Valley is convenient and walk-able. "One participant told Suzanne that making a daily trek into town for an espresso made her feel like a local."
The group will visit two renowned wineries, Italy's top olive oil producer, and some of Italy's most beautiful cities, including Perugia, Montefalco, Deruta, Assisi, and Gubbio.
Suzanne has always wanted to lead tours in Italy, but it wasn't until she made close friends in Umbrian, published her Umbrian cookbook, and learned to speak Italian that things fell into place in 2013. Suzanne invited Petaluma photographer Murray Rockowitz to join her as photography teacher to provide a richer tour than just a culinary tour offered. Suzanne and Murray met several years ago at Murray's portrait class at Napa College in California.
Murray is a well-known name among collectors of black-and-white fine art portrait photography. Around the San Francisco Bay Area, he is also a college photography teacher, guest lecturer, and consultant. His extensive portfolio includes twenty-five years of work for private and commercial clients worldwide.
-END-
Source: To Umbria. Eat, Drink and Make Photos. Intimate tours in Umbria.