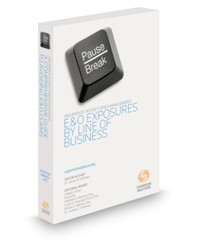 As with the first two books in the series, Book Three will clearly demonstrate the goal and commitment of AOA to provide the insurance industry with high quality, valuable education and resource materials" says Angelo J Gioia Executive Director of AOA
Las Vegas, Nevada (PRWEB) December 16, 2014
AgentsofAmerica.ORG® (AOA) and West LegalEdcenter, a business of Thomson Reuters, is pleased to announce that Book Three in the series "Insurance Agency Risk Management: E & O Exposures by Line of Business" is now available. With over 800 pages of content Book Three is very unique in the field of E&O Risk Management. See Table of Contents.
While most Agents E&O loss prevention material addresses the typical overall issues, Book Three focuses on the E&O issues inherent in over 18 specific lines of business, the chapters address products such as pollution, crime, bonds, general liability, umbrella, workers compensation, life insurance to name a few, The goal of this resource is to provide agents in better understanding the various "hotspots" and to enable them to take the necessary precautions. "As with the first two books in the series, Book Three will clearly demonstrate the goal and commitment of AOA to provide the insurance industry with high quality, valuable education and resource materials" says Angelo J Gioia Executive Director of AOA. "The authors are experts in their respective fields, including Agents Errors and Omissions exposures," continues Gioia.
AOA is grateful to the publishing firm of Thomson-Reuters, a leading publisher of Insurance Agents loss prevention material. West LegalEdcenter, a business of Thomson Reuters, wants to be leader and influencer for agents and brokers in continuing education. This book series encompasses the materials agents and brokers are looking for and need to effectively understand and manage their E&O exposures.
Not only does Book Three provide a solid in-depth review of the E&O exposures of the various lines of business with details of risk management and risk-avoidance guidance for the insurance professional, it also includes a host of best practices to minimize the potential for an agent facing E&O litigation. For lawyers prosecuting or defending claims against agents, it also provides comprehensive discussion of the legal issues that may arise in such claims and how the various states treat those issues.
Available now for $49.99. In addition, save additional 20%! Enter promo code WPD20 at checkout and the discount will be applied. To Order CLICK HERE. Free preview chapter is available for viewing, "Undersanding Flood Insurance" byJulie L. Juergens, Esq. and Hannah M. Klang, Esq. of Gallagher Sharp.
AgentsofAmerica.ORG is extremely grateful to its authors and editorial board for their support and expertise. In addition to E&O Insurance expert Curtis Pearsall, the members of the AOA's Editorial Board includes, Editor in Chief, Dr James Kallman of St. Edwards' University, Minneapolis E&O defense attorney Britton Weimer of Jones Satre & Weimer PLLC, Professor Andrew Whitman of the University of Minnesota's Carlson School of Management, Roy Little, President and CEO at Insurance Educational Association, Angelo J. Gioia Founder & Publisher of AgentsofAmerica.ORG, Matthew Marrone defense attorney with Goldberg Segalla LLP in Philadelphia and Frederick J. Fisher, J.D, President at Fisher Consulting Group.
Companies or Agencies interested in purchasing multiple copies of each of the three books or who have questions about our programs should contact Angelo Gioia at angelo(at)agentsofamerica(dot)org. To assist carriers, agencies or associations, looking to buy multiple copies we are providing significant group discounts, as low as $20 per copy.
About AgentsofAmerica.ORG
AgentsofAmerica.ORG is an Insurance Association dedicated to the personal and professional growth of its Insurance Agents & Brokers members and their agencies and a indispensable resource for news, products, services, continuing education, and industry information throughout America The organization's mission is to deliver the BEST people, products, information, and services to agents all designed to help them manage and grow their business and provide ongoing value to their clients. In addition, it has become the number one resource for connecting insurance agents with industry professionals, support and guidance on Professional Liability Risk Management, Errors & Omissions Risk Management, Loss Prevention & Loss Control, Insurance Agency revenue building products and opportunities. Our motto is "Bringing the BEST Together." Visit Agents of America.