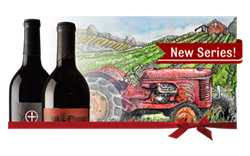 SANTA BARBARA, Calif. (PRWEB) December 15, 2014
Gold Medal Wine Club, one of the most popular online wine clubs in the nation, is delighted to announce the inclusion of a new wine club series to the Gold Medal lineup—the Garagiste Series Wine Club. This new series focuses on high quality wines that are handcrafted in small batches by talented, many award-winning, independent winemakers under their own private label. The wines featured in this series are the new champions in the marketplace, and the highest quality.
Founded in 1992, Gold Medal Wine Club is distinguished in its search worldwide for the most sought-after, award-winning wines on the market. The wines selected for each series must meet a strict selection of criteria, which include Gold Medal to 93+ ratings from top wine publications such as Wine Enthusiast, Robert Parker and The Wine Advocate. These handpicked wines are assorted into one of the six wine club series, where each series is tailored to the customer's preferred pallet and affordability.
The newest series, the Garagiste Series (pronounced gar-uh-zheest), was first introduced in the wine industry to define small-lot French winemakers who rejected governmental rules of winemaking in favor of a self-governing, make-the-best-wine-possible approach. And yes many work out of their garage. Within the California wine industry, the term denotes independent winemakers who produce top-notch wines that reflect the original winemaking expertise and parameters of the French Garagistes.
The Paso Robles wine region of California is at the forefront of Gargariste movement, and some of the best small-lot winemakers in the world call this lush region home. They produce extremely small quantities of unique wines (about a 1500 cases annually). These winemakers are driven to produce the absolute best wine they can —they have complete authority over the entire creative process, resulting in a remarkable and one-of-a-kind product that wine novice to aficionados are guaranteed to enjoy. Each bottle presents the passion, pride and pallet of the winemaker.
Since these Garagiste winemakers operate on such a small-scale, they usually only distribute the wines within their local region. Gold Medal Wine Club offers these winemakers a chance to share their talents with the nation, allowing Club members the distinct privilege to sample wines that they otherwise might not ever have the chance to experience.
The Garagiste Series embodies the dedication of the artisan winemaker and represents the cutting edge of the wine world, and because of that, Gold Medal Wine Club offers its member an unrivaled tasting experience that cannot be missed. The Garagiste Series Wine Club offers Gold Medal Wine Club members an opportunity to experience the exclusive small-lot wine movement firsthand. Monthly, every-other-month or quarterly shipments are available for just $75 for two very incredible wines.
For more information about Gold Medal Wine Club or the Garagiste Wine Club, please contact Bradley Mansfield at Bradley(at)goldmedalwine(dot)com or by calling him at 1-800-266-8888. Headquartered in Santa Barbara, Calif., Gold Medal Wines has been the nation's leading independent wine club since the early 1990s. The Club carries award winning, hard-to-find wines from California and around the world and delivers them directly to wine enthusiasts across the nation. The selection process is rigorous, and the wines that are selected for the Club's six different wine series are some of the most highly coveted wines available. To learn more about the company, how the wines are selected for the wine series, or to learn more about the excellent discounts that Gold Medal Wine Club offers its customers, please visit: goldmedalwineclub.com