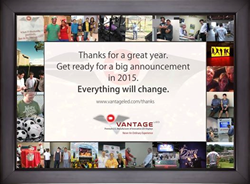 What turned the heads of officials was the sheer dedication our people showed to our products and the love we have for this industry
Ontario, CA (PRWEB) December 16, 2014
A successful year at Vantage LED stirs up thoughts of what they have in store for the coming new year. They are always looking forward, thinking of innovative ways to shake up a seemingly stagnant sign industry. Humbled by their success, Vantage continuously shows gratitude to their partners who have made it all possible. They plan to do it bigger and better in 2015, with a new website in the works, a get-to-know the dealers initiative, and a big announcement coming in February that is bound to shake up the LED sign industry.
Recently, Vantage put up a web page to reminisce and show gratitude for a great year. The page includes a mosaic of the standout events and charities of the year, while embracing the company culture and emphasizing their utter love for the industry. Atop the page is a special video message from the Chief Marketing Director, Paul Martin. In this video, he reveals that he will be hitting the road with a camera in 2015, in the effort to connect with dealer partners. 2014 was all about dealer strength, and Vantage focused on optimizing the dealer experience. In 2015, they want to take a more personal initiative.
Martin stated, "If we don't connect, nothing else matters. My travels next year are about focusing on three things: what motivates our partners in this industry, how our product line is serving them and their clients, and my favorite, what tools and resources we can personally create for them to help them succeed...and of course, we'll throw some fun in there."
Vantage LED's partnership with Spectacular Media has also proven to be attributable to their success. This year, Spectacular Media worked with FEMA to integrate IPAWS (Integrated Public Alert and Warning System) in their cloudware platform, SM Infinity, giving digital signage users the ability to display emergency alerts on their LED signs. This was not only a huge accomplishment for Spectacular Media, but also for Vantage, as they saw the great importance of utilizing the power of digital signage to effectively keep communities informed and potentially save lives.
It is these strong partnerships that enable Vantage LED to continually be a formidable force in the sign industry. Among the many noteworthy events of the year, Vantage LED was honored to be chosen from a list of top manufacturers to provide billboard-sized displays for the Fan Fest events at the World Cup 2014.
"What turned the heads of officials was the sheer dedication our people showed to our products and the love we have for this industry," Martin exclaimed.
Vantage's ongoing success, brought about by strong partnerships and innovation, sheds light on the great things that are to come in 2015. With the promise of "never an ordinary experience," look for their big announcement in February that will change everything.
About Vantage LED:
In an industry becoming stagnant, Vantage LED, a Premier U.S. Manufacturer of innovative outdoor LED Displays, is forging ahead, providing revolutionary digital solutions, with innovative hardware and intuitive software. Their software, SM Infinity™ features professional content creation, with internet and mobile access, all backed by real human support, strong resources, and smart business. Vantage LED invites you to discover the simplicity they bring to the LED industry.