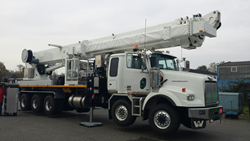 Houston, Texas (PRWEB) December 13, 2014
Altalink LP, Alberta's largest electric company and most recent acquisition of Berkshire Hathaway Energy Company, expects delivery of the innovative new offering in early-January 2015. Altalink supplies power to 85 percent of Alberta's population.
"This is the first aerial, insulated device available on the market. It's the very first one. This was a joint project between Palfinger, ourselves and Altalink," Chris Roberts, President of CraneWorks Canada, said. "This is technology that's just becoming available to our marketplace." The unit was built and installed this past fall at Palfinger's Bison Wumag facility in Krefeld Germany.
With a working height of 213 feet 3 inches (65 meters) and an insulated boom assembly, this vehicle is capable of working on live power lines: without interrupting electrical service to an increasingly wired world. The insulated truck mounted aerial device also has a maximum lateral reach of 88 feet 7 inches (27 meters).
This makes the P 650i ideal for servicing 165 foot towers, which are now becoming the norm. Until it makes its Alberta debut in Q1 2015, the only option has been to utilize boom trucks fitted with insulated jibs to access and service these power transmission lines.
This is a new product offering to North America from Palfinger, the Austrian-based manufacturer of truck mounted cranes, aerial devices and equipment. The first insulated P 650i platform was delivered in 2014 to an Australian Utility Company, this being the initial prototype unit.
"This is a showpiece for CraneWorks Canada within the industry," Roberts says. "The business is evolving and both equipment suppliers along with the manufacturers have to work with the contractors to keep pace with their needs". With a good deal of assistance from Palfinger North America and our representative Mr. Jeff Black along with our local chassis supplier Sterling Western Star and Mr. Tim Langevin we were able to build a package to meet the needs of the customer. The European market has been at the forefront of large aerial platform development and it is now coming to North America. With recent developments in the various segments of electrification and transmission the contractor base are looking for these solutions. "This is definitely an advantage for the client."
"We see this project as a great opportunity, Mr. Mike Belchos – Fleet & Equipment Manager for Altalink LP has provided a showcase for both the CraneWorks organization and Palfinger North America to what we have to offer the electrification and tranmission business in Western Canada." Roberts says. "If the unit works and proves itself as intended, we anticipate ready acceptance by other contractors resulting in future market growth with these machines."